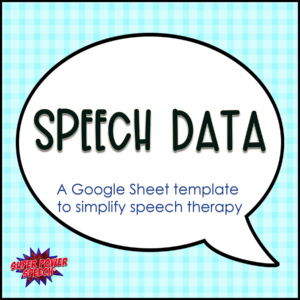 I have a confession to make.
In the 17+ years that I have been a speech therapist, I have never been completely satisfied with my data collection. I consistently take data, and some say take it well, but I know I could do better. Every year (often multiple times in the year) I spend too much time creating new systems, backlogging my data, and then going back to my tried and true paper column data page.
This school year I began exploring data collection on my computer. I have been testing out data pages from both The Spechstress and SLP Tool Kit. I highly recommend both of these resources! I especially like SLP Toolkit for it's progress monitoring tools. When it came to taking data during speech sessions, I did not find a data tool that saved me time and made my life easier. I decided, therefore, to create my own method of taking data online.
I needed something that I could easily use for groups, allowed me to see what we've already worked on, and see data and progress at a glance. I wanted a system in which I could write in the activities for one student and copy and paste them into others' data sheets. I also wanted to be able to copy and paste it all into my Medicaid system so that I was not redoing my work again.
I decided to use Google Sheets because my job uses gmail already and sheets is easy to access. The problem, however, was that my experience with spreadsheets was two decades old. So, I challenged myself to grow my brain a bit and learn something new! I'm really excited about the features I added.
Data collection features:
Online system that I could share with my SLPA

Flexible access to the data by computer AND tablet AND phone

Visual progress monitoring graphs or tables easily accessible (I hate having extra sheets of paper all over for my progress monitoring)

Easy system for creating homework and sharing speech activities with parents
Watch this short video highlighting this system of online data collection:
If you are interested in purchasing this system, click here.
Have you ever tried taking data online for both individuals and groups? This is a great and inexpensive way to give it a try!