Blog Birthday Day 6: 6 Super Powers to be an SLP
And the final FREEBIE of the birthday bash! A super award for all of you, my readers! (Oh, and for any of your students that you think deserve some recognition!). Click on the image to download.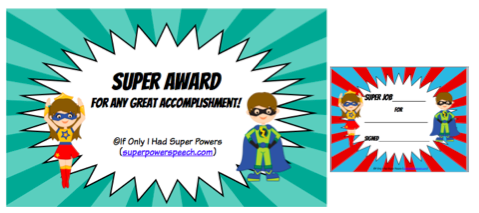 Don't forget that all winners for the giveaways will be announced 2/4/14!
Make sure to check out all of my birthday posts!
Day 1: 6 Social Skills Products Giveaway and Super Valentine's Day Cards Freebie
Day 2: 6 Super Blog Posts (over my 6 years) and February Lesson Plans Freebie
Day 3: 6 Language Products Giveaway and Behavior Visuals Freebie
Day 4: 6 Super Powers I've Learned and Birthday Card Freebie
Day 5: 6 Articulation Products Giveaway and Speech is Super Poster Freebie
Day 6: 6 Super Powers to be an SLP and Super Award Freebie