This was my downstairs/finished basement last week:
Now don't get me wrong, I am actually NOT an early Christmas decorator. I have dubbed the day after Thanksgiving "Christmas Decoration Day!" (and a little shopping too). But downstairs severely needed light. And I was too lazy/cheap to go buy more torch lights. So out came the strings of Christmas lights!
And maybe it was my basement that inspired me, but I really wanted to get a jump on the season this year with my speech activities. So this week I created a bunch! And then I combined my 4 new activities with 2 of my fabulous book companions (Gingerbread Baby and Polar Express) and an Articulation product to make an amazing Holiday Bundle!
You can read all about my Gingerbread Baby Book Companion here, and my Polar Express Book Companion here.
Here are the NEW things I've been busy creating: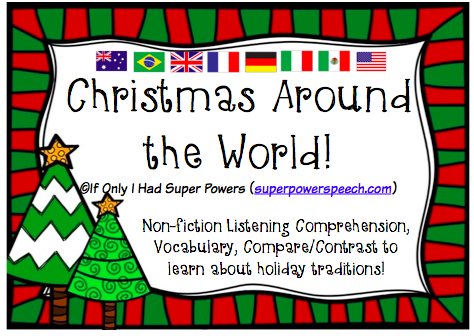 I am so excited about "Christmas Around the World" because I learned sooooo much while creating it! Not only will you learn about the Christmas traditions of 8 different countries, but the students work on listening comprehension, vocabulary, and compare/contrast with the sheets below!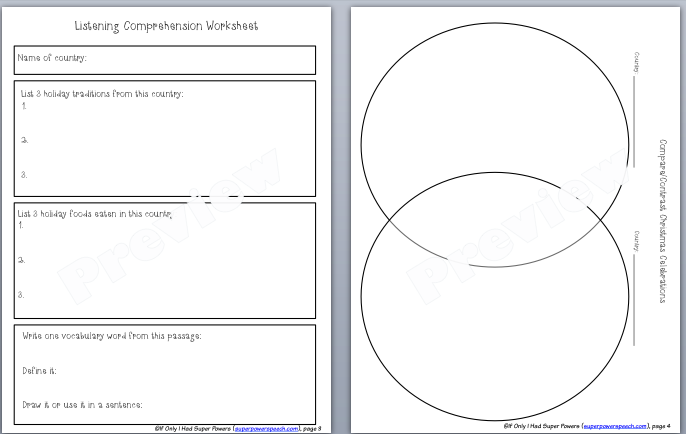 Then each country passage comes with information about the traditions and foods of that culture as well as picture vocabulary (color and black/white) to help with filling out the worksheets! The countries included are: Australia, Brazil, England, France, Germany, Italy, Mexico, United States. I would have loved to include some other countries from Asia and Africa, but I didn't have the clipart. 🙁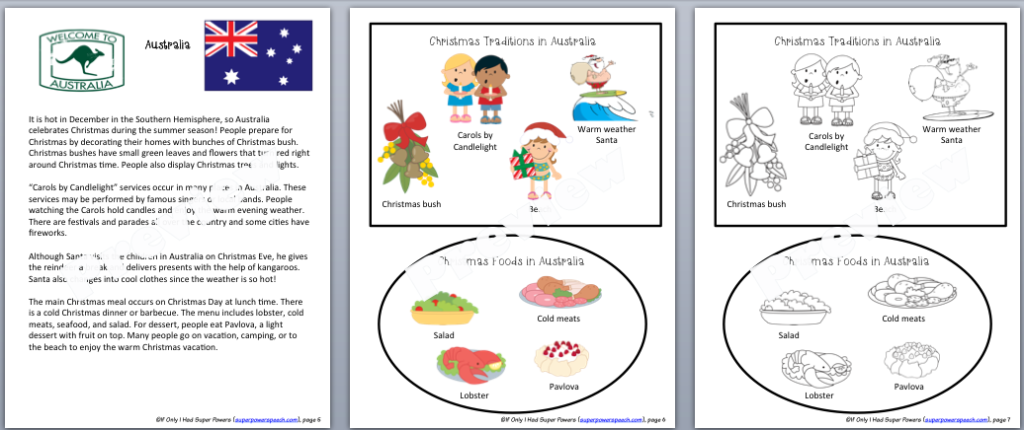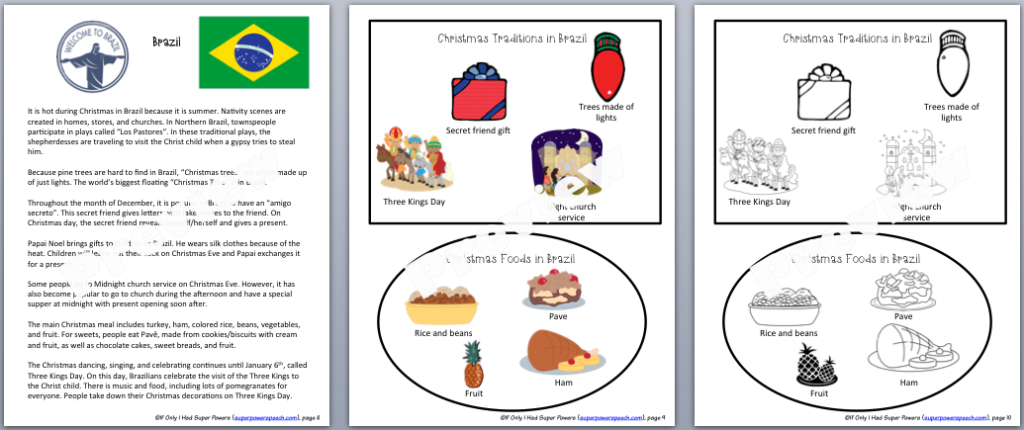 8 lessons for late elementary/middle school DONE! Get it here.
Here was my next creation:
File Folder Categories: Christmas/Birthday (FREE) is a fun way to work on categorization skills. And because it is a file folder activity, it can be done independently (or with the help of an assistant) in the classroom!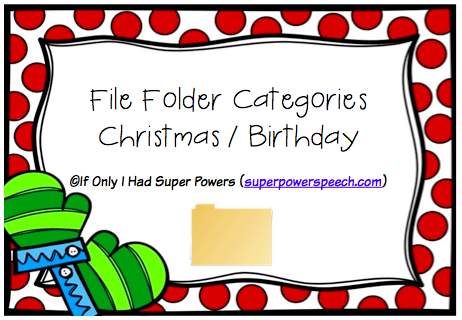 Here are the pages in the download:

And this is how you set it up (Velcro and file folder not included):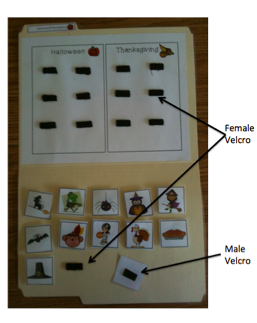 Grab the freebie here.
Next up was an activity for my Kindergarten/1st grade students: Holiday Pronouns.
This download relies on the 4 pronoun pages: He/Him, She/Her, It, Them/Them and the delicious Christmas cookies that they want to eat!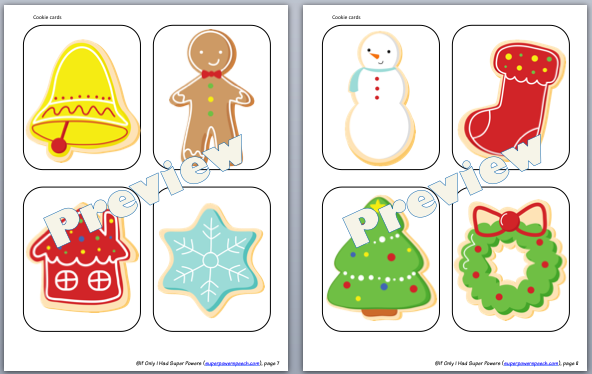 There are 3 levels of game play: 24 cards for Simple Pronoun Directions, 24 cards for Detailed Pronoun Directions, and 24 cards for 2-step Detailed Pronoun Directions. Good for a multitude of students. And yummy.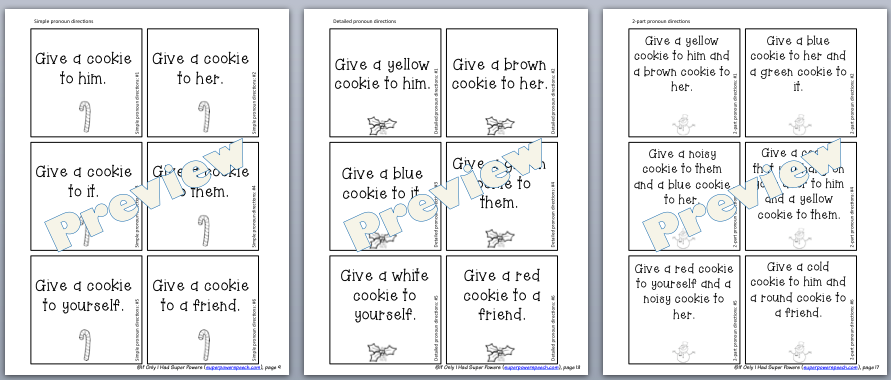 You can get it here.
And my final holiday creation works on social skills (and I have LOT of kids working on social skills!): Holiday Social Skills.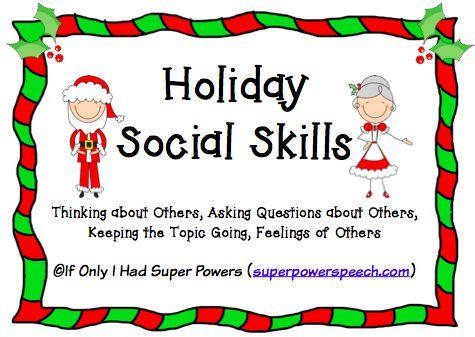 There is a social story, worksheet, and game/activity for 4 areas:
Thinking about Others: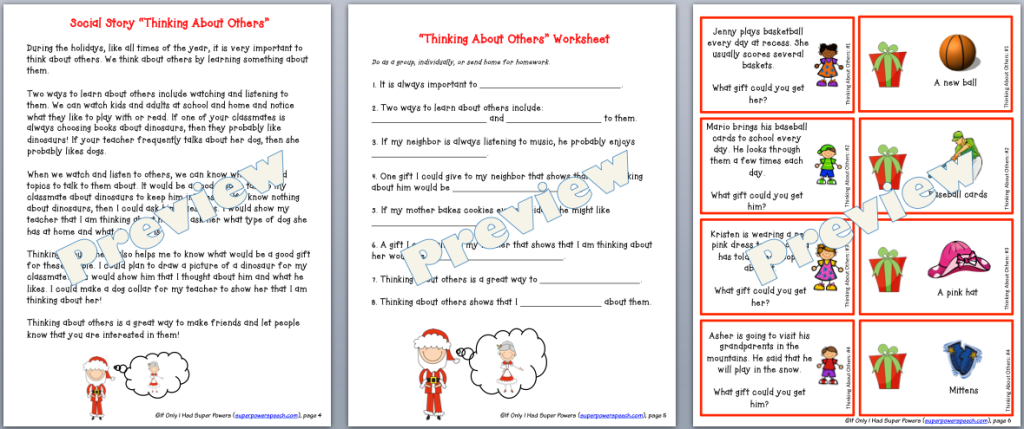 Asking Questions about Others:
Keeping the Topic Going: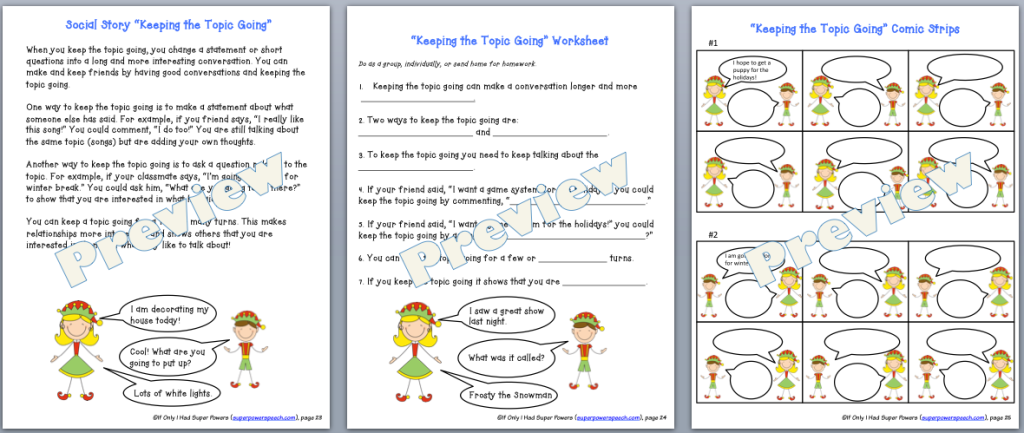 Feelings of Others: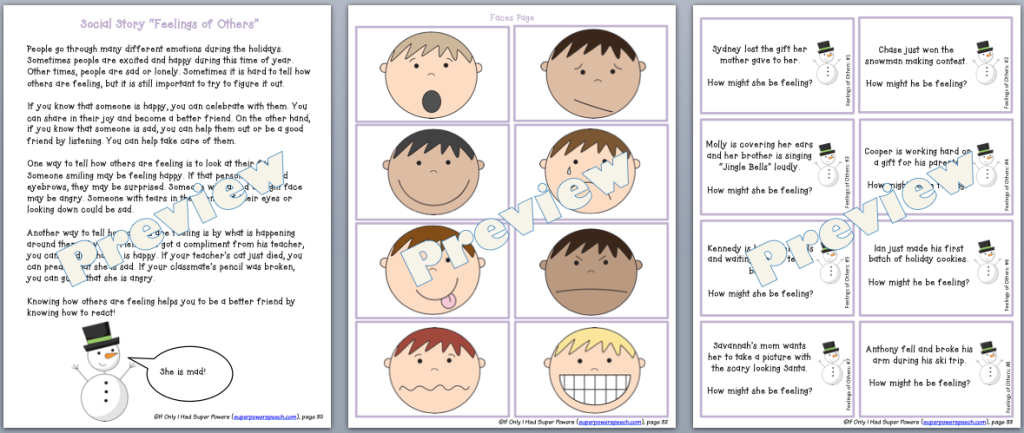 Get this unit here.
These should be MORE than enough to get you through your holiday season! Leave the stress for gift wrapping, not for planning lessons!