If you thought my six File Folder Songs would keep me satisfied for a while, then you were terribly wrong.
Within days of completing those songs, I had created more. Many more. I just kept thinking ahead to the next letter of the week and what I wanted to sing with my life skills kids. And unlike the last set of songs, I created the lyrics to all of these songs (set to familiar children's songs). Just call me Mozart. Sorta.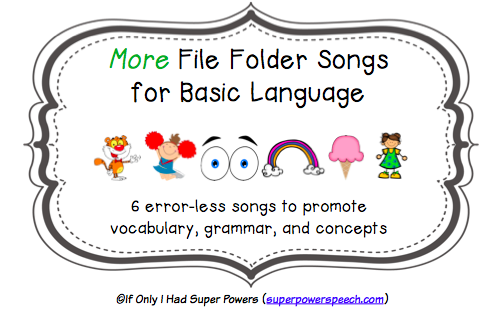 The songs include:
-Hello Song (works on greetings and classmates' names). Note you must glue pictures of your own students onto the blank rectangles.
-I'm Very Good At (works on present progressive verbs)

-Ice Cream Song (works on colors)
-Look At All The….(works on 3rd person present tense verbs)

-Weather Song (works on weather vocabulary)

-Where are the Kids? (works on plurals and family vocabulary)
If you would like to know how to assemble these songs, check out my post here.
When completed, here are your masterpieces:
You can buy them here. I hope you love singing them as much as I do!!