Disclaimer: This post contains Amazon affiliate links.
Did you know that 1/6 of the world celebrates Chinese New Year? And that it is the world's biggest human migration as workers travel home to their families? Supposedly, the trains in China are so over-crowded during these traveling days, people will wear diapers for their 24 hour trips home! (Information from About.com)
Because my husband is Chinese-American and my children are Korean-American, we try to incorporate some Lunar New Year Traditions into our family holidays. Next week we are opening our home to friends and neighbors. Hopefully, there will be lots of luck and love for us this year!
I spend the month of February teaching my students about Lunar New Year and have created a freebie for you, along with some awesome units for students at my TpT store.

Learn English phrases and idioms about the 12 animals of the Chinese Zodiac: rat, ox, tiger, rabbit, dragon, snake, horse, sheep, monkey, rooster, dog and pig.
There are 24 phrase pairs in this download, along with 4 Skip, Reverse, Draw 2, and Wild Cards (so that you can play an Uno-type game!).
A great activity for upper elementary as well as secondary students who are working on figurative language. Click here to download the freebie!
Want MORE resources for your students during this special time of year?
Check out my new Lunar New Year (Reading/Listening Comprehension Activities)!


This very inexpensive unit includes
-20 Reading Passage Cards about Lunar New Year in China, Korea, Vietnam and Mongolia: Learn about how each of these countries celebrates the new year!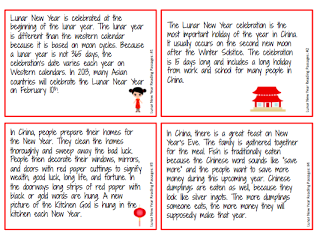 (One of the reading cards)
-Vocabulary Chart: Write down new words and definitions

 
-Comprehension Cube: Ask and answer higher-level questions about the Reading Passage


Please go here to buy your copy of this great activity for kids aged 8-18!
And don't forget my great book companion for The Great Race, explaining the order of the Chinese Zodiac Calendar (including FREE Listening Comprehension Activity!).
 


Other Lunar New Year books I enjoy include: Moonbeams, Dumplings & Dragon Boats: A Treasury of Chinese Holiday Tales, Activities & Recipes, My First Chinese New Year, and D Is for Dragon Dance.
Don't forget to check out my Lunar New Year Leveled set for grades PK-5th and Social skills!