Just when I thought it couldn't get worse…
I was dancing (aka raising the roof) with students in the hall to "Celebration" on the last 5 minutes of the last day of school. I jumped backwards onto a coat rack, felt a pop, and felt ghastly pain. I tried to grab a student to slow down my fall as I screamed "help! help!" but everyone just looked at me wide eyed.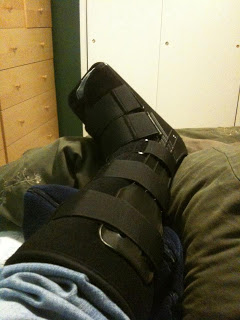 I lay in a heap on the floor crying while a puddle of tears built up around me. I couldn't speak or answer questions. An ambulance was called. I heard the sirens. Several teachers gathered around me, put a lost and found sweatshirt over me, and kept me company.
The firefighters arrived. I noticed a few of them were quite cute. I could speak in one word answers between my sobs. I heard them say they hit a car in the school parking lot trying to get in. I guess that's what happens when 550 kids are being dismissed and 5 school buses are crowded inside along with hundreds of cars into a small lot….and then you throw a fire truck into the mix.
A few minutes later the paramedics arrived. They wanted to know why I was still lying on the ground in a puddle of tears. I couldn't tell them that I just couldn't bear to move. They put me on a stretcher and into the ambulance. I've been in an ambulance before. During community events when you show you kids, "Look honey, this is what an ambulance looks like from the inside!". But I've never really been in an ambulance. The paramedic in back asked me questions and by now I could answer. How do I tell him my students and co-workers saw me fall and cry and cry like a little child?
I was given morphine. It made the injured side of my body get all hot. Then woozy. I felt tired. And it seemed like ti barely helped the pain, but I suppose it helped more than I gave it credit for. The paramedic asked me several times about my pain levels on a 10 point scale. How can I possibly compare my pain levels to my husband? It felt cheap and superficial. But for me, this was pain. Big pain.
The paramedic radioed into the hospital. The hospital asked if I was appropriate for the "fast track". I don't know what that means, but I'd wager it meant "is this a real injury that we should see right away or can it wait?". It's just my foot people. And I have morphine in me. I can wait if I need to! There are people having strokes, and heart attacks, and head injuries. I can wait. I really can. But the paramedic said "affirmative", thus confirming my status as a total wimp.
At the hospital they took some xrays, decided that I had chipped the cuboid bone on my left foot, gave me some crutches and a walking boot for when I am able to bear some weight. The foot still hurt like crazy, but it wasn't consuming me like it had before. I was pushed in a wheelchair to the car, while my husband pushed himself in his wheelchair and the kids tried to snatch rides from him.
I sent the husband out to get us a pizza for dinner (we were supposed to go out to celebrate my birthday from earlier in the week). I also arranged someone to help him pick up my car from my work. Luckily, last August I convinced him that we needed to have at least one car that wasn't stick shift, so our van will now be the car I drive for a little while.
I took the next day off of work, which was a teacher work day to work on grades and clean the rooms. But I checked email regularly. I told the school I'd be back on Monday for the very last day of work (I still have IEPs and billing to complete) and was told I had to have a doctor's note to come back that day. Seriously? Yep! And because the doctor's note I eventually had faxed to the school said I needed to be on "modified duty", I actually have to write a letter to the district saying I'm just going to do my normal job for the last day and do not want to get stuck elsewhere stuffing envelopes as part of a modified duty.
So now, I'm hoping around the house or lying on the couch. It's pretty sad that both husband and I are so incapable right now. I'm teaching the kids (while lying on the couch) how to wash my clothes. Soon they will be vacuuming the house. And I may even charge my son with mowing the lawn.
I do not know yet how long it will last. I think it's probably pretty minor with a relatively quick recovery (thus making me even more embarrassed that I lay in a heap at work and had to take an ambulance) but for now, mostly all I can do is lie on the couch, while my husband lies in bed. I'm keeping the door open so I can see, but not experience, the gorgeous sunny weather. And I hope that I will be enjoying it soon. Or at least able to make myself a cup of coffee without hopping on one foot around the kitchen, splashing hot liquid everywhere.