The Importance of Categories
"Doggy."
"No honey, that's a kitty."
"Doggy."
"No honey, that's a cow."
"Doggy.""Yes! That's a doggy!"
We all know this conversation. Kids categorize items, even without knowing they are doing so, to make sense of their world. Early on, that often looks like all animals are "doggy", all people are "mommy", and all toys are "ball". Gábor Győri states that, "Categorization is the most basic cognitive process. It is the ordering of phenomena according to similarity with the purpose of guiding our interaction with the environment." (Basic Level Categories and Meaning in Language, 2013) Categories help us to generalize experiences and bring sense into our ever changing environment. Additionally, "Categorization also facilitates the storage and retrieval of information, and it supplies a principle of organization by which new information can be banked efficiently in memory." (Bornstein, Arterberry, 2010).
Categories are important. And categorization changes over time with learning from the way something looks, to the way it acts, to it's function, etc. After a child is able to categorize cognitively, they can use these skills in their language. Categorizing in language is important because:
It gives us a way to describe an item to others.
It provides connections between ideas for similarities/differences.
It gives us a way to group our thoughts.
It provides AAC users the tools they need to find vocabulary.
If you are working with elementary aged students, keep in mind that exploring word relationships and sorting into categories is a CCSS standard for Kindergarten (CCSS.ELA-Literacy.L.K.5).
So, how do we help a child who has difficulty with categories? (Amazon affiliate links)
Sort. Many preschool activities involve sorting. Sort by color; sort by size; sort by shape. These activities are often very hands on and fun.
Read books. Katherine Stout (2000) recommends reading books with children that have already classified items. This board book provides a fun way to help children learn colors.
Start a collection. I really like this article's idea to collect items with the child. Collect things that are a certain color, shape, function and keep them displayed. Add to the collection periodically or make new ones.
Another idea for categorization practice? My newest creation, "Sort by 4s!" You can get it here.
Because I work on categories with so many students, I love having pre-made file folder category jobs ready to go. I can use these as either independent or guided tasks with both verbal and non-verbal students. I have previously made many categories that sort into groups of two, however, I've found that many of my students have moved beyond that and need bigger challenges. So I created "Sort by 4s."
In these file folder activities, children learn to sort into groups of four by function, color, location, rooms (in a house), size, and shape. The activities are fun, functional, and infinitely reusable. Language skills to work on with Sort by 4s include:
Receptive categorization
Expressive categorization
Receptive vocabulary
Expressive vocabulary (naming)
Vocabulary (describing)
Following directions ("Put the clock to above the ball.")
Giving directions
Creating complete sentences ("The clock and ball are circles.")
Comparing/contrasting
And more!
Check out the feedback that this activity has already received: "This is so simple and easy to use. What a great activity!"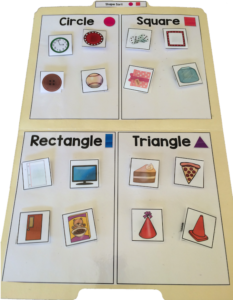 I know that nobody loves putting together file folder activities. They take time including laminating and Velcro, however, remember that once created, they can be used over and over. No more copying, printing, or worrying about them. Just store them in a cabinet and you are ready to go. I've created a quick video to guide you through the set-up:

I am confident that having these sorting activities will be a perfect companion to your other category activities and one that you can use for years to come! Purchase your copy here.
Looking for higher level products to work on categories with AAC users? Check out Simple Sentences-Books for Early Language, made especially for LAMP users!
Tell me in the comments below, what is your favorite way to work on categories?