Dirt Cheap Goodies for Speech
As a self-proclaimed thrify-a-holic, I love to find a good rummage sale.
Please note. I did not say garage sale.
Garage sales are a waste of my time because:
You have to travel to multiple locations.
The sellers are emotionally attached to the items so they charge too much.
There is not enough variety, sizes, supplies.
Rummage sales, on the other hand, are:
Almost always for a charitable cause.
Run by volunteers who are willing to bargain since they have no emotional attachment to the items.
On a strict schedule and everything must go by the end of the sale.
The following finds, however, were from a garage sale. But in justification to my previous statements, I can add that they were from a moving sale from a friend from church. And, oh, they were all free since they didn't sell earlier in the day!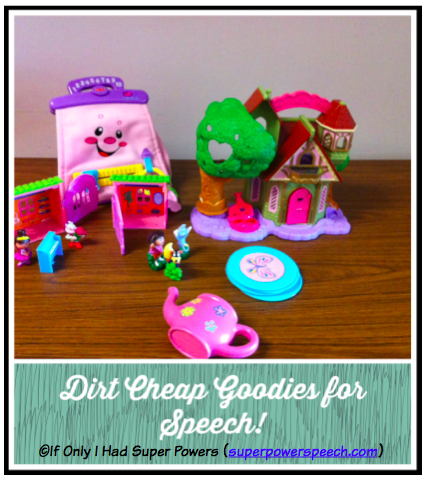 This is just a small sample of all the free toys I received from my friend. I am so excited to use these items for pretend play activities including:
Household vocabulary
Medical vocabulary
Meal time vocabulary
Character scripts and retellings
Polite language
Requesting, commenting, and questioning
How about you? Have you recently collected any dirt cheap goodies for speech?
Check out Speech Room News Link-Up for Thrifty Speech Finds!