speech material organization
Disclaimer: This post contains Amazon affiliate links.
Every year my goal is to be more organized than the previous year.
Over time, I learn new tricks and routines to keep me going and allow me more time to spend with kids (instead of paperwork).
I have gone from completely flying by the seat of my pants to knowing in general what I would do each month to actually knowing what I would do each day. I have monthly "themes" and keep materials organized by the month. I do not repeat the same generic "main idea" cards repeatedly throughout the year. Not because that is an awful thing to do, but just because I. Would. Get. So. Bored.
One great way I've gotten organized this year is by organizing my "go-to" materials into binders.
I put my heavily used units (such as Jack and the Beanstalk and Three Billy Goats Gruff )into a binder with a clear cover sleeve. I keep all of the stories and directions clearly displayed in page protectors, with any accompanying materials in the same sleeve.
For seasonal materials (such as Holiday Social Skills and my monthly lesson plans), I do not put in a binder, but just sleeve protectors with rings.
And for my "merge" lessons (when I merge into classrooms during ELD time, I have binders for each grade level to keep myself (and my assistant) organized).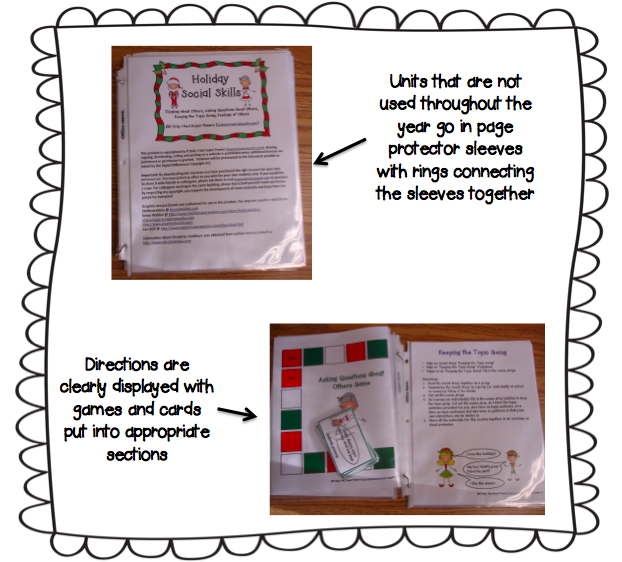 Make sure to check out PART 2 of Keeping Your Materials Organized!
If you want to get serious about getting organized, check out my course:
helping school-SLPs take back their weekends!