Disclaimer: This post contains Amazon affiliate links.
Every year my goal is to be more organized than the previous year.
And I would say that as an overall trend, I have been mostly successful. I have gone from completely flying by the seat of my pants, to knowing in general what I would do each month, to actually knowing what I would do each day. I have monthly "themes" and keep materials organized by the month. I do not repeat the same generic "main idea" cards over and over throughout the year. Not because that is an awful thing to do, but just because I. Would. Get. So. Bored.
One great way I've gotten organized this year is by organizing my "go-to" materials into binders.
I put my RTI Units: Jack and the Beanstalk and Three Billy Goats Gruff into a binder with clear cover sleeve. I keep all of the stories and directions clearly displayed in page protectors, with any accompanying materials in the same sleeve.
I also put my heavily used products from others into a binder that I keep handy at all times. This binder contains:
Common Core Standards by Nicole Allison
Listening Comprehension Screenings by The Speech Bubble
Common Core RTI Assessments by Lauren LaCour 
Curriculum Based Language Assessments by Nicole Allison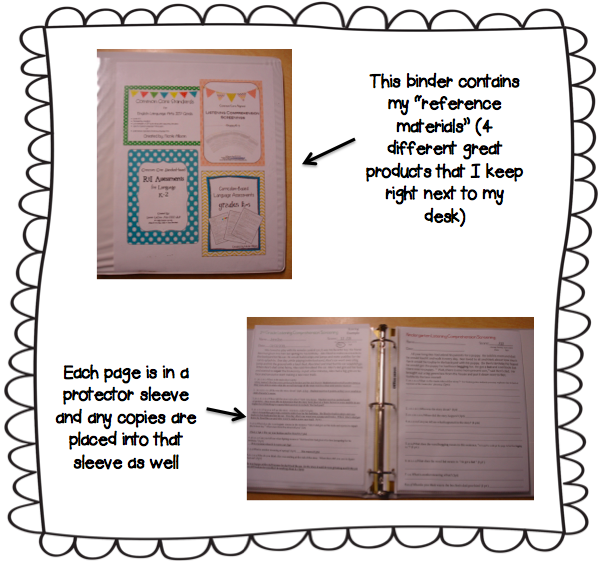 For my materials that I use for only a month (such as Holiday Social Skills and my monthly lesson plans), I do not put in a binder, but just sleeve protectors with rings.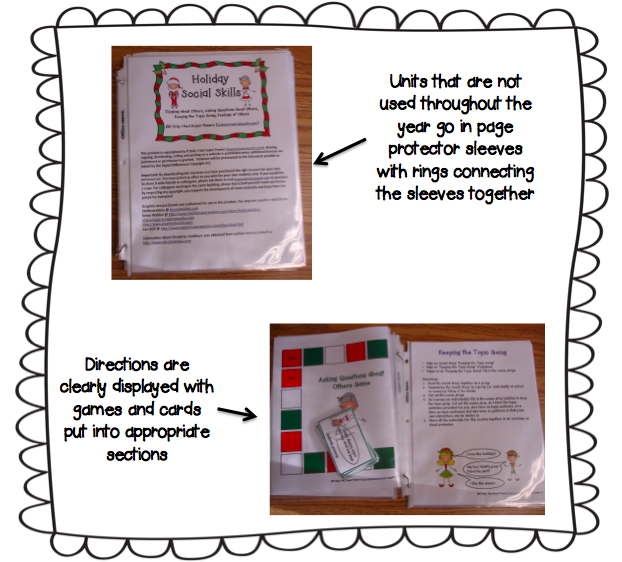 And for my "merge" lessons (when I merge into classrooms during ELD time, I have binders for each grade level to keep myself (and my assistant) organized).
Score yourself these binder covers FREE here!
Make sure to check out PART 2 of Keeping Your Materials Organized for more ideas!
If you really, really want to get serious about organization, you MUST enroll in one of my courses. Check them out below: