The Importance of Learning Social Skills Outside of the Classroom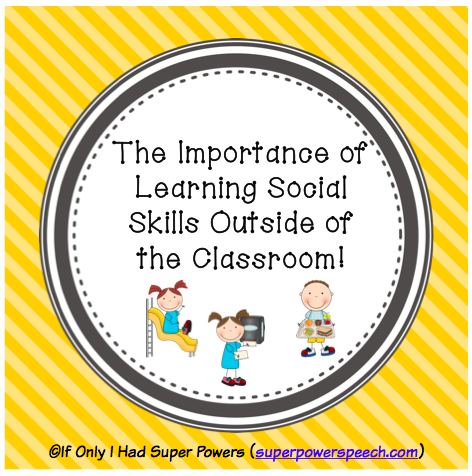 An actual email I sent to the staff at my school a few weeks ago:
I have a little story to tell….

Xth grade recess is often fairly hectic. We have MANY kids with special needs (both identified and not identified) and I often end up "coaching" the kids on recess and social skills.

Today was the second day this year that the weather was bad enough that we separated classes and stayed in the covered areas. I was the only adult to accompany Mrs. T's class. At first the kids mulled around aimlessly. They wanted a ball so I asked 2 of them to go get a ball from the other classes. Both kids came back to say they were all in use and they couldn't procure one (my word, not theirs!). I was starting to wonder how in the world the recess time would be occupied and whether there would be tons of puddle splashing (like the last time this happened).

After talking to one of the students about the ball situation, I turned around to find the class, the entire class, engaged in a game of "What time is it Mr. Fox?" And who was "Mr. Fox" but one of my very special students with many social skills difficulties! I was so proud of this role that he had been given and that he was doing a PERFECT job of being Mr. Fox. Other students even stood up for him when a few tried to take the role away.

It was so awesome to me to witness this recess on many levels:

The kids initiated the game, chose leaders, and played completely on their own.
They generalized a game from PE and played it on the playground.
They not only included the kids with social difficulties, but gave one a leadership role.
Every single student played for 90% of the recess.
They were kind, respectful, and (for the most part) played by the rules.

It was amazing and I want EVERYONE who has ever had an influence on this class to give themselves a huge pat on the back for a job well done!
Recess coach is indeed what I have become this year. At my recess there are four students identified with Autism as well a student with many behavioral and social needs. All of these kids are on my caseload (in addition to others).
In September, I created "rules" for playground equipment for my students who happen to "forget" during the summer.
At the beginning of the year, I noticed one of my students spent the entire recess pacing back and forth. He did not know what to do during this unstructured time, or how to play with others. My Autism Specialist helped me develop a "Recess Choice Board".
At the beginning of recess each day I would have him choose 2-3 things that he would do. When he chose "ball", we tossed the ball 10 times and then he moved onto the next activity. The amazing thing was that after about 2 weeks of this choice board (which I will readily admit this student didn't like!), he started playing tag with other students. Although technically tag is an "off limits" game, I made the professional decision to allow tag to be played during this recess as long as the kids were safe. Because it is truly beautiful to see my student playing appropriately with his peers.
I've created a generic  FREE version of this for you. Just laminate and add Velcro! I would recommend replacing these pictures with actual photos of your playground when you are able. These are great for helping your students have an "agenda" of structured activities to do during an unstructured time. Get it here.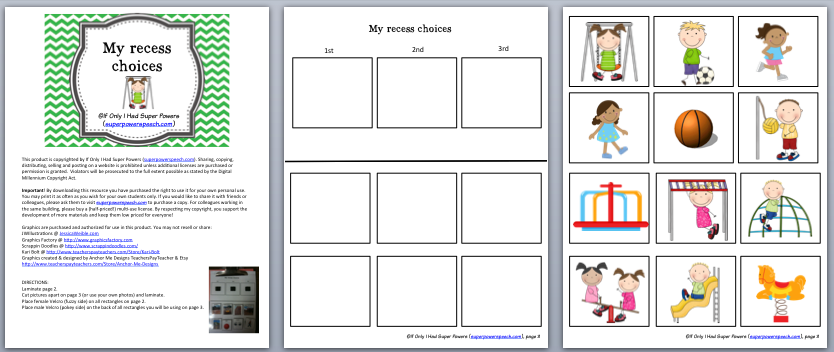 For students that need more support than this (and trust me, I've got those as well!), I have created 3 units teaching social skills in 3 different parts of the school. Each unit can take up to 4 thirty-minute sessions (if done slowly with lots of discussion and repetition), so these can be pretty in-depth. They also can be adjusted to be quick lessons by eliminating many of the book pages. These lessons are appropriate for higher-functioning preschool students, all the way up through lower functioning middle school students. They can be done in the regular education classroom, or in small group therapy/counseling sessions.
The book is made up of half-sized pages.
The Recess Behavior Book includes:
Playground lessons (pages 2-14):
•Playground 1: Write name of the student on the book.
•Playground 2: Read the social story together. Discuss, repeat, and develop gestures for the bullet points.
•Playground 3: Circle the equipment found at the school's playground.
•Playground 4: Write or draw rules for the equipment (Adaptation: Have teacher draw or cut/paste one piece of equipment onto this page. Orally discuss the rules for this pieces of equipment).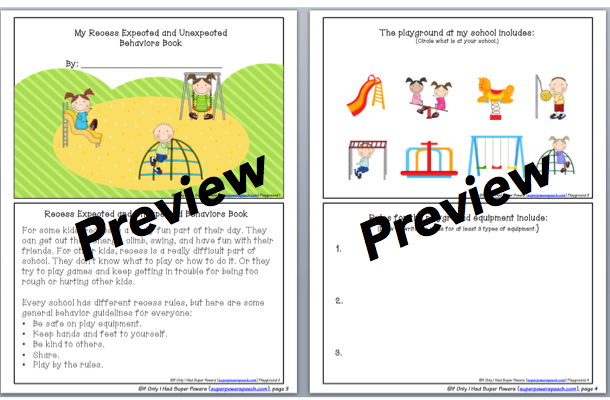 One of my students did this fabulous job of drawing and writing equipment rules here:
•Playground 5: Expected way to keep hands and feet to self.
•Playground 6: Unexpected ways to keep hands and feet to self.
•Playground 7: Expected ways to be kind to others at recess.
•Playground 8: Unexpected ways to treat others at recess.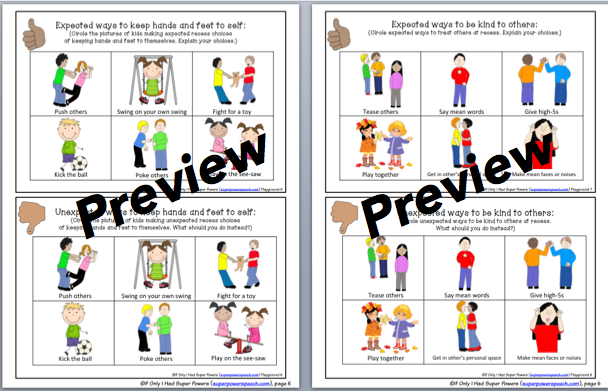 •Playground 9: Expected ways to share at recess.
•Playground 10: Unexpected ways to share at recess.
•Playground 11: Expected ways to play by the rules at recess. Talk about the rules.
•Playground 12: Unexpected ways to play by the rules at recess.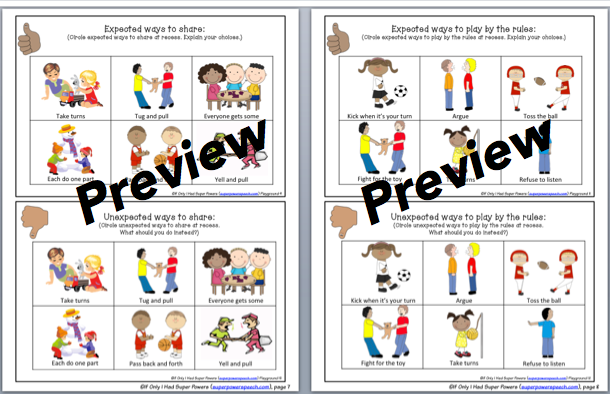 •Playground 13-14: Write down the rules for a recess game (Adaptation: Skip these pages or do them orally.).
•Playground 15: Create an expected playground scene. Then draw or describe what the scene looks like on Playground 15 (Adaptation: Create and discuss the playground scene but do not draw it afterwards.).
•Playground 16: Create an unexpected playground scene. Then draw or describe what the scene looks like on Playground 16 (Adaptation: Create and discuss the playground scene but do not draw it afterwards.).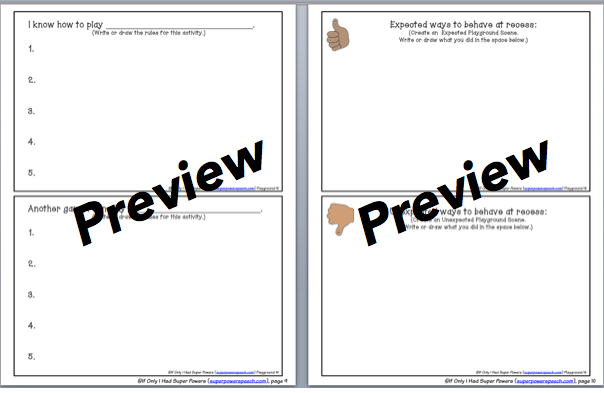 •Playground 17: Go to the playground and practice each of the skills that the group has been discussing.
•Playground 18: Glue or draw photos onto the page.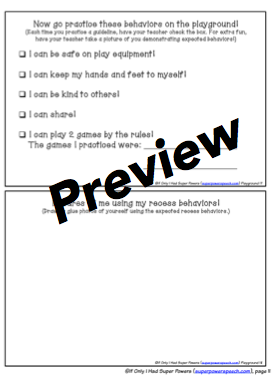 Use the Expected/Unexpected Behaviors Scenes for a barrier game or cut/paste activity.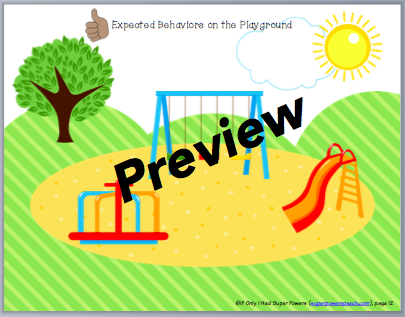 In addition, there are very similar lessons for teaching behaviors in the Bathroom and Cafeteria.
Bathroom lessons (pages 15-28)
Cafeteria lessons (pages 29-40)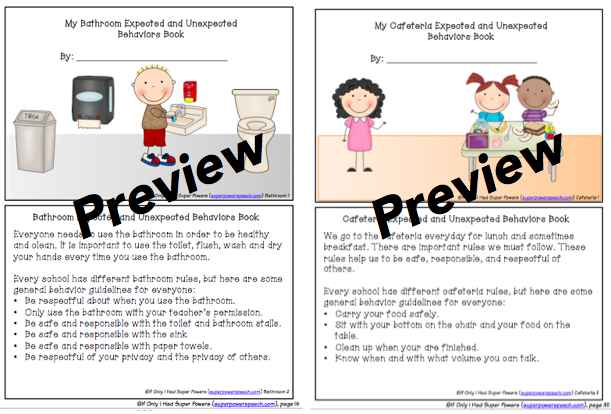 So, so, so many kids need to work on these school skills at all levels. The books are easily adaptable to work with a variety of age ranges and skill level. I hope you will buy these lessons and use them with your students! Get it for yourself here!
**The concepts of "Expected/Unexpected" and "Thinking about others" are based on "Michelle Garcia Winner's Social Thinking". Please visit her website for more information: http://www.socialthinking.com.