The 4 best school supplies of the year!
Disclaimer: This post contains Amazon affiliate links.
Now that I'm off and running this year, I have come to appreciate a few new items in my speech room. These are new to me either because the old version broke (oops!) or because I was trying out something different this year. Here are the best 4 things I'm using this year…
1. This stapler seriously DOES have super powers. You barely press down and "WHAM", 20 sheets of paper are stapled. So key for my 16-18 page IEPs that I can't keep track of every day!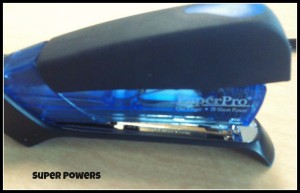 2. After a tragic encounter between my old water bottle and the floor, I have a new 32 ouncer baby! I try to finish 3 of these before I get home from work so I can have lots of excuses to use the bathroom often (and check Facebook!). Here is a similar one on Amazon (but no straw).
3. I actually found these pens when scavenging through my old school supplies. I had never opened the packs, but they are the BOMB. Gel pens that (get this…) erase! They write and erase really well. I'm keeping one in my apron, my desk, and my planner!
4. And finally, the number one best purchase I made for school this year… my french press. Now I can make a really strong cup of coffee every.single.day. Seriously, there are much happier adults and kids are here because of this thing (especially me!). I got mine from Ikea, but you can find others inexpensively here.
There you have it! The newest and greatest things in my speech room keeping me sane this year!