Using books by the same author to enhance language skills
Disclaimer: This post contains Amazon affiliate links.
My newest creation is an experiment in combining two books (by one author) into one download: Click, Clack, Moo and Giggle, Giggle, Quack
I love Dorreen Cronin and her amazing (and adorable) books about farm animals that have outwitted their farmer. These books can be read in less than 10 minutes, leaving lots of therapy time for direct instruction and practice!
The books are suitable for Kindergarten age students because of the theme and relatively simple story. They also can be used with students up to 3rd or 4th grade because of the vocabulary and story retelling opportunities.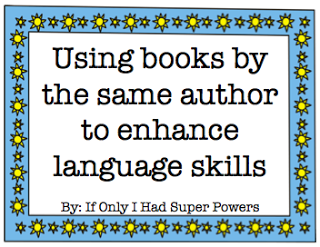 frame by: http://www.teacherspayteachers.com/Store/Dina-Migadaki
Great reasons to use multiple books by the same author for directi instruction:
*Students get a better sense of the author's writing style with multiple books. They can make predictions about what might happen next, or what the next book might be about when they understand the writing.
 *Students become familiar with the illustrator and graphics. The pictures can be analyzed in different books with familiar language, while also working on language growth. Students may be inspired to try copying characters or scenes from the familiar books.
*It is the perfect opportunity to "create your own" story based on the author's and illustrator's style to work on language and writing skills.
 *Individuals and groups can compare and contrast books by the same author easily because there is often a similar theme or character.
*Let's face it–some authors/illustrators are just better than others. Stick with the ones that are great!
I have a freebie Sentence Frame included in the "Download Preview" (no book required for this activity).
Unsure how to use a sentence frame for descriptive skills? See my post about Sentence Frames here.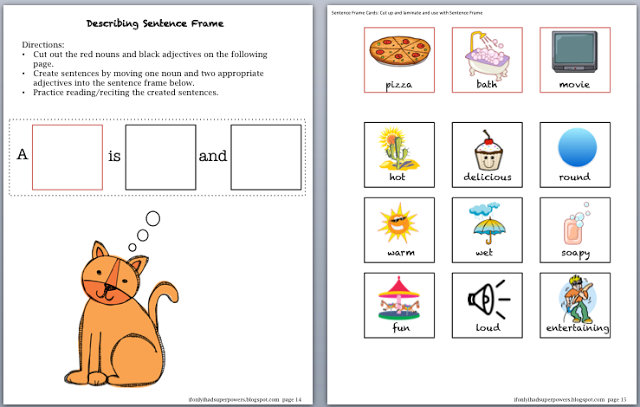 Below are examples and pictures from my entire 2-part unit!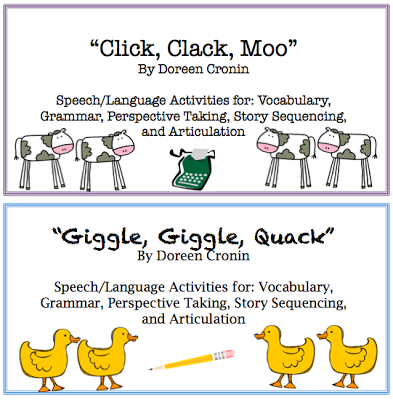 These units can be used separately or together to reinforce almost a month's worth of therapy for: Vocabulary, Grammar, Perspective Taking, Story Sequencing, and Articulation
Each book unit contains:
Vocabulary (pages 3-9)
-12 pairs Vocabulary cards and Worksheet
-Describe the Phrases vocabulary worksheet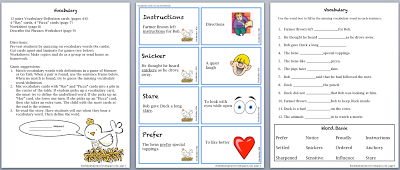 Antonyms (pages 10-13)
-8 pairs Antonyms cards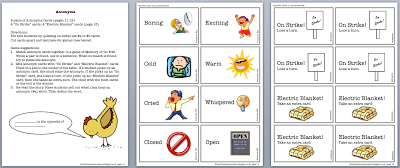 Descriptive Sentence Frame (pages 14-15)
-3 nouns & 9 adjectives
(see sentence frame freebie above)
Past Tense (pages 16-24)
-8 pairs Regular Past Tense Verb cards and Worksheet
-8 pairs Irregular Past Tense Verb cards and Worksheet


Perspective Taking (pages 25-26)


Note/Letter Writing (page 27)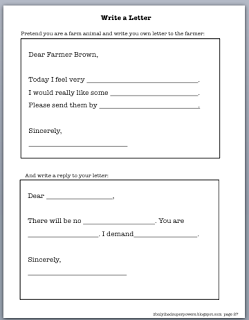 Compare and Contrast (pages 28-30)

Story Sequencing (pages 31-35)
-11 picture sequencing cards
-Story Map
-Story Comprehension Question Cube
-Story Retell Rubric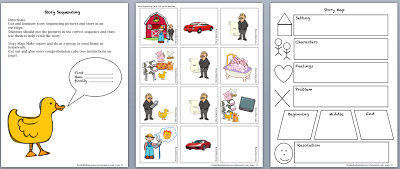 Articulation Cards (mixed positions) (pages (36-43)
-s/z, r, l, k/g cards

 
Hope you love these books (and units) as much as I do!
Giggle, Giggle, Snicker, Moo!
Looking for other resources on Click, Clack, Moo? Check out this great looking book companion by Courtney Gragg!