Some recent SUPER creations!
Here are a few things I've created recently in between going through medication withdrawal and progress reports….
A SUPER behavior point sheet for my student with a super hero obsession. (It was because of him that my entire  Super Social Skills  unit was created!)

I created a generic FREEBIE point sheet for all of your Positive Behavior Support kids too! Click here to get yours.


  A SUPER, "I'm not here right now" sheet that is now on my door.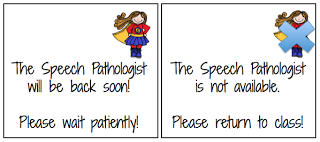 It is folded in half and each side has velcro that attaches to the door. I made this because I have morning meetings 4/5 days per week, but my Speech club students don't always know if I am running late from a meeting, or if I am absent that day. This way they know if they should wait for me or just go back to class!
And finally (this isn't new but I just HAD to show it off), our SUPER speech room expectations, created by my amazing and creative SLP-A!!


Hope I'm soon feeling SUPER to go with the theme!
All Super Hero art from Mellonheadz.