It's that time of the year that I get a new practicum student, or "Student Teacher".
I've had many incredible students intern with in the past and it is rewarding to **hope** that I am contributing to their lives and careers in some ways.
My new student teacher this term seems very capable and friendly and I expect that she will do a great job. Since I've had quite a few interns, I developed a "expectations" page to give them on the first day. I also have them fill out a "about me" page for my information and to share with my staff, along with a mug shot. It's fun to get to know the students as well as show them off to the rest of the staff….especially when they have a great CV, which this one does!
In case you ever have an intern, want to have one, or once had one, you can get my (editable) Expectations page here for free.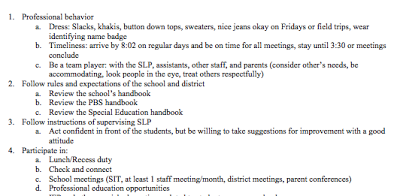 So… have you ever supervised an intern? What was your experience like?