Cultural Encounters of the Speech Kind
Disclaimer: This post contains affiliate links. Just as the confetti of New Year's Eve is settling down and teachers are pulling out the hearts and roses for February, I am pulling out the red. And dragons. And firecrackers.
Why?
It's not only for the obvious reason that 3 out of 4 people in my family are Asian.
Nor is it because I practically minored in Asian History in college.
It's not because we do a rockin' Chinese New Year party in my home (we squished over 40 people into my living room last year!).
Finally, it's not because the more practical gift of cash is given out during the celebrations.
Here are some great reasons to teach your students/children about Lunar New Year: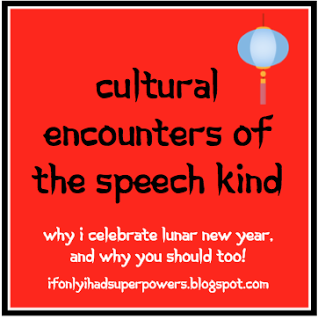 1. Most of the world is Chinese. Over 19% of the world's population lives in China, making it the most populous country on Earth. And Asia contains 60% of the world's population.  That is a lot of people celebrating the most important holiday on the Chinese calendar! In the United States, Asian Americans make up the third largest ethnicity in the country.
2. Lunar New Year is a national holiday for many countries. Businesses in many nations are closed for up to a week in celebration, including: China, Taiwan, Macau, Indonesia, Malaysia, Singapore. It is celebrated as a cultural holiday by residents of Asian decent in almost every nation on Earth.
3. Lunar New Year is celebrated for weeks. Because the holiday is based on the lunar calendar, it varies from year to year and can therefore be recognized and taught about over an extended period of time. There are 15 days of celebratory activities that include fireworks, great food, and time with family.
4. There are great resources for learning about world culture, traditions, and fables! In previous years, I blogged about books about Chinese New Year and Asians:  D is for Dragon Danceand Yoko.  My friend Tonggu Momma has an awesome list of books here and crafts here. And Katie @ Playingwithwords365 posted about Chinese New Year here.
Too tired to do the work yourself? No problem.  I spent most of my Winter break creating these units for you to use in January or February in celebration of Lunar New Year (in 2015 it is February 19th, year of the Goat)! Also don't forget to check out my pride and joy "Lunar New Year" with activities for PK-5th grade language plus social skills!
The Great Race is a fabulous, whimsical book that tells the Fable of the Chinese Zodiac with bright illustrations and the perfect mix of low and high level vocabulary for kids aged 5-10. Grab your copy here!!
Want more?
Jan Brett is one of my favorite author/illustrators (she is so talented!). Add Daisy Comes Home and this unit to your speech or language activities about a cute little girl in China named Mei Mei (meaning "Little sister") and her lost hen (Daisy).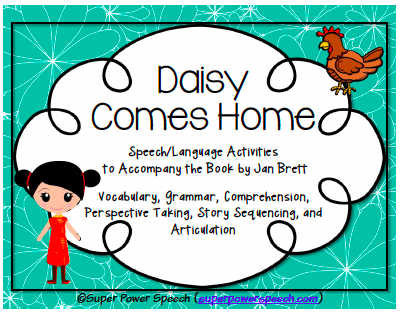 This unit can be downloaded here and is good for almost every student on your elementary caseload!!!
The Great Race activities are here and Daisy Comes Home activities are here.
Also, check out this video preview I made for "Daisy Comes Home"!

Make sure to LIKE me on Facebook to see special offers and freebies that I post!
Hope you have a wonderful New Year! Both Western and Eastern style! Gung Hay Fat Choy!