Disclaimer: This post contains Amazon affiliate links.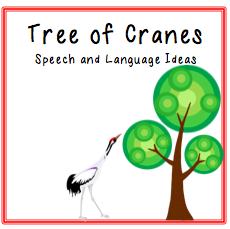 Do you remember your very first Christmas?
Me neither.
But what if you did? What sights, smells, emotions might you attribute to that first magical day?
In Tree of Cranes, a Japanese boy recounts his first Christmas.
His mother was raised in the United States and celebrated Christmas growing up there. She recalls it was a magical day of peace and quiet. Wanting to share that with her son, she secretly sets up a Christmas tree. She gives him the gift of quiet instead of scolding when he visits the neighbor's forbidden pond on a cold day and consequently gets sick. By digging up and his bonsai tree (planted on the day of his birth), she makes a Christmas tree. She decorates it with paper crane ornaments and small candles.
The boy awakes the next day to find his wished for Samurai kite. And his gift to his mother? The promise never to return to the pond he had visited the previous day.
It is refreshing to find a Christmas book about Asians and celebrating Asian culture. Almost every exquisite illustration includes Japanese culture: mattresses on the floor, origami, bonsai, kimonos.
Speech Therapy Ideas:
1. Articulation /r/ blends : Children who have almost perfected their /r/ sounds, but need a little bit of extra practice, can work on words such as "crane, tree, Christmas".
2. Comparing and Contrasting : Compare things in the story with things in your own home. What is the mother wearing? What do you wear? Where is the boy sleeping? Where do you sleep? What does the Christmas tree look like and how did they get it? What does your Christmas tree look like and how do you get it?
Learn more about Japanese culture here.
3. Retelling the story : Try to re-tell the story so that an unfamiliar listener can understand the characters, events, and main ideas. If needed, use the illustrations.
4. Directions : Have your child follow multi-step directions for making a paper crane. Use tutorials here or here. After practicing several times, have your child re-tell the directions to someone else to teach them how to make the origami.