I figured I should proselytize my eco-green-crunchy-granola-NorthWest ways to the rest of the world…
I haven't used paper towels in my home for almost eight years. And napkins? Same thing. (Okay, except for the kids birthday parties when I know that I have to have something disposable for all those unkempt tornadoes shoving cake into their mouths and running around my home…).
So, what is a messy household to use? Cloths. Well, that's what we call them. They used to be old Diaper Wipes that we would wash and re-use over and over. But after those saw their final days, I have switched to flannel cut down to diaper wipe size. The flannel blanket that I cut up for these cloths was in the $2.50 section at Target. And even with this big pile, I have yet to finish cutting up that blanket!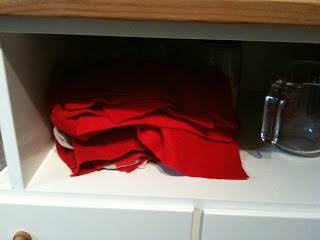 Why use cloths? They are soft, rinseable, and do a great job of cleaning up messes. And sticky fingers. Oh, and one more thing? Not wasteful!
Do you remember when I mentioned that I learned how to crochet last summer? That's okay. I forgive you. Well, small projects are about all I have time for. So I learned how to crochet sponges. My current goal is to create enough sponges to use a new one every day and throw the old one in the wash. WAY more sanitary than the synthetic sponges I currently use for 30+ days before replacing. And much less flappy and non-conforming than a dish rag.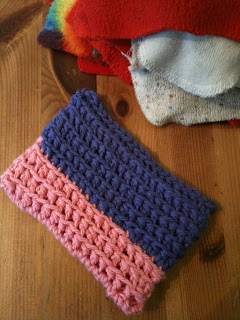 There you go. My inner-Lorax at work in the kitchen. I won't go into detail about how I never let my kids do art-work on "clean" sheets of paper or how I generate far more in recycling than waste each week.  Because then you might REALLY think me nuts. 😉