A spikey, speedy little reminder
My children are terrified of bugs. It probably doesn't help that our home has been continually infested with ants for the last 2 years. They shriek at the sight of a fly. A beetle rumor can keep them out of a room for hours. And a bee? The kids flee in the other direction when a stinger gets within a 2 mile radius.
So we were shocked that the kids were fascinated by this caterpillar during our recent camping trip (and Marvel Girl's first hike ever). They watched it for more than five minutes as it quickly ( it's all relative here since it moved faster than Marvel Girl ) inched across the path and up a tree.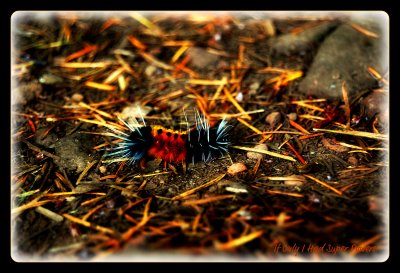 Our second camping trip ever. Her first hike. And a spikey, speedy little caterpillar. The end of a glorious "summer".
Alas, now the winter rains have started…