We are living in a Web 2.0 world, and I am a Web 2.0 girl.
Gone are my gorgeous Ansel Adams calendars.
Here to stay? My on-line calendar!
I started using googlecalendar earlier this year and now I'm hooked.
Since Professor X and I are both more likely to look at our computer screen than a picture calendar, this suits us well.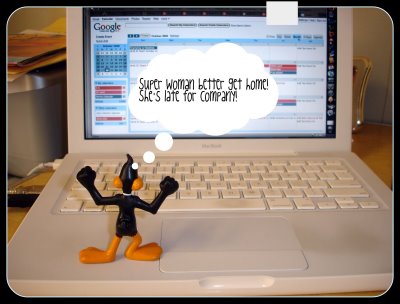 Plus, I can coordinate my schedule at work with that at home.
Some tips to make calendar life easier:
Color-coordinate each person in the family's activities.
Use "repeat" options so repeated activities only need to be typed in once (such as days of vacation or weekly lessons)
Periodically print out 3 months of calendars at a time and hang them on a large bulletin board. It is much easier to visualize future events when they are all staring at you. Plus, beginning of the month activities are not forgotten.
Please note Super Woman's new rockin' cape thanks to Marvel Girl