Dos and Don'ts of Novice Camping
As told by Super-Woman after her recent foray into the woods.
Do: Turn off the water heater, bathroom, bedroom electricity via the circuit breaker before leaving home
Don't: Turn off the fridge and freezer (after throwing out all the meat in the freezer I realized my energy saving efforts would NOT be saving me any money)
Do: Pack underwear, socks, and towels for kids
Don't: Forget that dirty, messy kids may go through 3 of each daily (yes, we had to borrow clothes for the kids)
Do: Plan on having multiple campfires
Don't: Neglect actually buying firewood and bringing a long lighter
Do: Wash dishes daily with warm water (we learned this one after camping 8 years ago in Yellowstone and trying to wash greasy pots with 33 degree water!)
Don't: Fail to bring dish-washing buckets
Do: Bring your camera(s)
Don't: Leave them in the car and forget to take pictures
Do: Bring new snazzy two-wheel bike for your son to ride
Don't: Run out of room in the car and bring no appropriate riding toy for daughter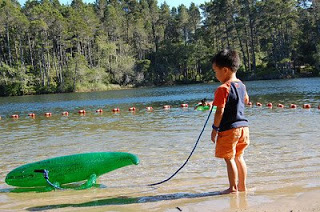 This is what happens when you refuse to get your children a dog.
Do: Bring an eye-mask to block out early morning light and a battery-operated white-noise maker to block out other campers' snores
Don't: Leave your insomniac husband outside reading in the cold all night because he doesn't want to wake the family
Do: Bring sleeping bags and air mattress
Don't: Think that the kids really don't need either and give them a few blankets as pittance
Do: Look up the weather before leaving
Don't: Look up the local weather and fail to see the weather where you are headed
Do: Print out a map of where you will be going
Don't: Figure out you will be camping near the beach on departure day and therefore not pack nearly enough warm clothes (We were COLD!)
Do: Remember that the kids will remember none of the negatives and just recall the glorious time they had biking, playing, running around, and eating with their friends (old and new)
Don't: Forget to consider a yurt next year!