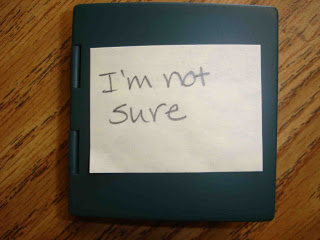 A low cost way of helping children speak single messages is through recording toys or "talking" buttons. These can be purchased at places like Radio Shack or other electronics stores. Single messages can help children that have difficulty communicating, such as those with speech and language delays or any young children.
Through companies like Attainment company, children can make themselves heard and understood. Here is a simliar device they have for use on the fridge.
I use their talking picture frames for single phrase responses like "I don't know" instead of shrugging or tantruming. Also, these messages are fabulous for children to help tell repetitive choral lines from a book. In the Very Hungry Caterpillar, the button can say "but he was still hungry!" Then every time that part of the book comes up, the child can help participate in reading the book!
See my last week's post here to see a higher quality device that is great for children with limited fine motor skills.