Core Vocabulary for Evidence-Based Practice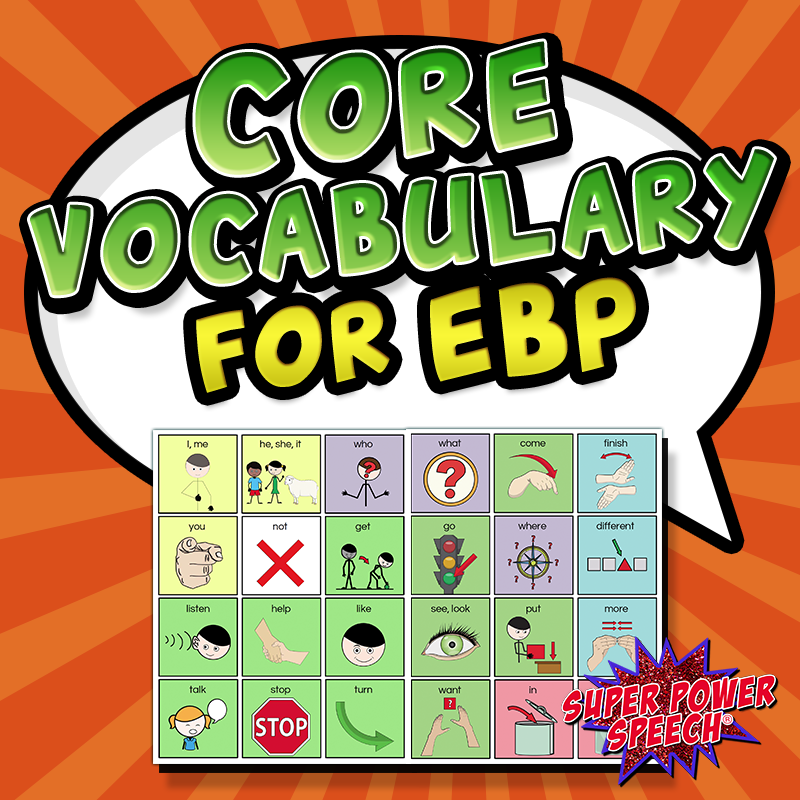 The following is a portion of a research paper combined with additional thoughts about using core vocabulary boards in my school.
Communication is a basic right for all individuals (Hendricks, 2007; Unicef, 1989). Not everyone, however, enjoys easy communication. Children with complex communication needs (CCN) may need augmentative and alternative communication (AAC) to express themselves to others.
Within my school, students use the following AAC types:
Many of my students, however, were not fully utilizing any of these communication systems. These students frequently lacked the hours of modeling required to learn a new communication system. Frequently expensive mid and high technology devices were left at home, uncharged or broken. As an assistive technology team, we decided to throw ourselves into more low-tech communication systems for everyone.
A major challenge with communication boards and books is that there is no standard. Communication boards include a variety of organizational strategies including semantic-syntactic grids (organized by parts of speech), taxonomic grids (organized by categories), activity grids (organized by routines or activities), visual scenes, and hybrids of multiple strategies (Beukelman & Mirenda, 2013). Some experts and communication partners have a strong preference towards one type (such as PODD) compared to others.
One method of organizing powerful vocabulary onto one page relies upon core vocabulary. Core vocabulary consists of the most common words used by children across settings and contexts. A study by Beukelman, Jones, and Rowan (1989) found that in a recording of nondisabled preschoolers, 250 repeated words made up 85% of their 3000-word samples. Of these words, 25 made up 45% of all words in their language sample. In 2003 (Banajee, Dicarlo, & Buras Stricklin, 2003), researchers found that all 50 of the toddlers in their study used nine words consistently across routines. We call these words "core".
Core vocabulary words are powerful enough to be used throughout the children's days and provide a framework for functional language (Banajee et al., 2003). Interestingly, none of the core words in these studies included nouns (Banajee et al., 2003; Beukelman, Jones, & Rowan, 1989), presumably because most nouns are context dependent. Because of the power of core words, core boards are popular for all types of AAC (low tech through high tech).
WHAT DID WE DO?
Our assistive technology team created a goal to introduce core boards that could be used with most beginning communicators throughout the district. With a standard board, students could transition between schools and grade levels and not need to relearn words or motor learning patterns.
We used Gail VanTatenhove's 50 core boards ("The Pixon Project", n.d.) as a starting place. From there, we reduced the number of words to 24. The rationale for choosing this number was that it was enough words to use across contexts, while not so many as to overwhelm supporting staff.
Mini core boards were provided to support staff with the expectation that they would wear and use these boards across environments throughout the day. Medium size core boards were printed and placed strategically in both special education and general education classrooms. Large core boards were put up in the center of special education classrooms as well as in locations throughout the school.
To ensure that boards were being used, staff engaged in ongoing professional development regarding communication strategies. These included videos, staff presentations, and handouts.
At this point, all of my staff is using communication boards within the classroom at least once per day. I provide positive incentives for staff who model multiple times during the day. We still have a way to go, but I am so proud of how far everyone has come. Our students are learning every day and core vocabulary has had a huge impact in their communication!
Interested in learning more? The communication boards, research, handouts, and sample videos can all be obtained within my product "Core Vocabulary Boards". I hope at some point to do a presentation about core vocabulary and ways to train communication partners in the school setting.
REFERENCES
AAC Language Lab. (n.d.). Retrieved from https://aaclanguagelab.com/
Banajee, M., Dicarlo, C., & Buras Stricklin, S. (2003). Core vocabulary determination for toddlers. Augmentative Alternative Communication, 19(2), 67-73.
Beukelman, D., Jones, R., & Rowan, M. (1989). Frequency of word usage by nondisabled peers in integrated preschool classrooms. Augmentative Alternative Communication, 5(4), 243-248.
Beukelman, D., & Mirenda, P. (2013). Augmentative and alternative communication. Baltimore, Maryland: Paul H. Brookes.
Binger, C., & Light, J. (2006). Demographics of preschoolers who require AAC. Journal of Language, Speech, and Hearing Service in Schools, 37(3), 200-208.
Kent-Walsh, J., Stark, C., & Binger, C. (2008). Tales from school trenches: AAC service-delivery and professional expertise. Paper presented at the Seminars in Speech and Language.
McLeod, S. (2018). Communication rights: Fundamental human rights for all. International Journal of Speech-Language Pathology, 20(1), 3-11.
The Pixon Project. Retrieved from https://store.prentrom.com/the-pixon-sup-tm-sup-project-kit
Project Core. (n.d.). Retrieved from http://www.project-core.com/
Unicef. (1989). Convention on the Rights of the Child.