Embracing 40 – Turning 41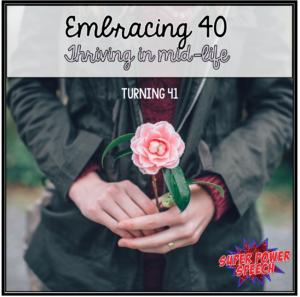 I did it! I made it through my fortieth year! I can even honestly say that I was healthier and happier this year than during much of my thirties when I suffered frequent injuries, illnesses and battled more severe depression.
The biggest identity change in my life this year was becoming a runner. A real runner, albeit a slow one. Last May, I was terrified to fun my first 5K. Now a 5K is warm up. I am even training for my second marathon next month. And my birthday gifts? All running related.
The biggest celebration this year was developing an incredible relationship with a student. She is non-verbal and can be very aggressive. Earlier this year, in fact, she left me with multiple scars from biting and scratching. After working with her every morning for the year, we now give hugs. We dance. She smiles when she comes into speech. She brightens my morning. Our relationship is not perfect. In fact, I sustained a bad bite from her today, but we are getting there. I will miss her this summer.
The biggest challenge that I faced this year was burn out. As most regular readers of this blog know, I try to juggle an unhealthy amount. Because of my husband's chronic illness, I am the primary caretaker and homemaker. I also work full time in the schools and nearly full time with my blog/TpT business. I have a very hard time taking a "break". This year I am going to focus on ways to be more present and less burned out.
Wish me luck as I plunge into my 41st year. Here's to health and happiness!
Save