Effective Routines in the Speech Room
I've had a desire for several years to make my 30 minute therapy sessions more routine oriented. I want students to know what to expect when they get to speech. I want them to start working as soon as they enter the room, while I frantically gather the rest of my materials. I want them to feel secure in knowing at least some of what we'll be doing each session.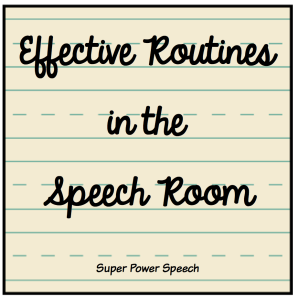 Why use routines?
Here are the excuses that I've had over the years:
They take too much time to learn.
My students change every 30 minutes.
I don't have time to enforce them.
I'm too busy.
My lesson plans vary so much throughout the day and week.
I have 50-100 students.
My students don't understand.
But…
"Studies have documented that schedules and routines influence children's emotional, cognitive, and social development."
(Ostrosky, Jung, Hemmeter, & Thomas, 2008, p. 2) (found
here
)
Studies show that routines help!
(Leinhardt, Weidman, & Hammond, 2014)
Routines facilitate by:
Reducing distractions
Managing behavior
Providing security
Using time more efficiently
(Smartclassroommanagement.com)
Great classroom teachers use routines for:
Entering the classroom
Getting materials
Transitioning
Cleaning up
Asking for help
Beginning work
So how can the SLP or Special Educator use effective routines?
Learning behavioral expectations
Establishing target goal for the session
Incorporating routine small talk/social communication
Starting the session without instructions or prompts
Cleaning up
Getting homework/carry-over materials
Thus far, I have focused my speech routines on my Daily Speech Club and weekly Language/Social Skills homework.
This year, one goal is to incorporate warm-up routines into:
There are two ways to establish routines with these materials:
Option A: Use the photo and leveled posters (CCSS aligned for language skills K-5th, plus social and articulation posters) at the beginning of each small group session.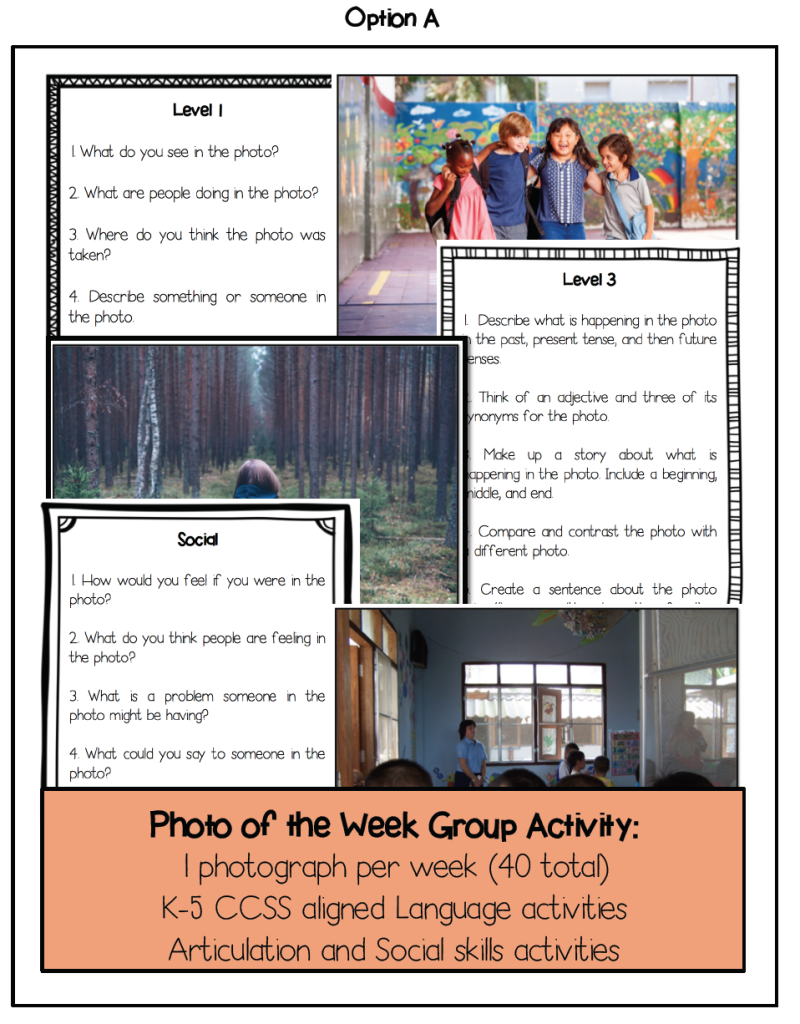 Option B: Use the photo worksheets to send home for weekly practice on language, social and articulation goals.
Either way, the students will have a routine that does not change from session to session. It gives the SLP or Special Educator time to gather materials or wrap up data, while the students do a familiar activity that is also working towards their goals!

Purchase your copy of "Photo of the Week" here!
Also make sure to check out "Story of the Week" as a follow-up for Photo of the week! Great for all levels and add story comprehension and retell to the routine!
Do you use any routines within your small group sessions? Which ones are the most effective?
Save
Save
Save