This post is a reminisce of our gorgeous weather 2 weekends ago .
Okay, I'm not saying I like it. But weeding exclusively by "sweat of one's brow" is possible. I avoid chemicals in the yard.
Tools needed: gardening gloves, weeding fork-like thing, weeding rake-like thing, lots of iced tea, and a good book on tape.

3 painful hours later: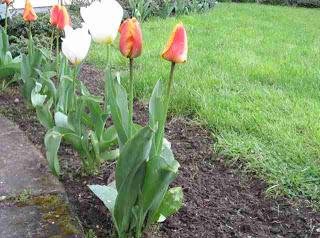 Phew! 1/100th of my yard is now weeded. So it'll be all ready for more weeding by the time we have our next sunny weekend!
Totally unrelated, here are some pictures of tulips in our neighbor's yard from that same day:

But the earth and your diet will love me if you follow my lead!