I need to go to Chillville!
Do you ever need to chill out? I mean, just go out for a drink/pedicure/massage/yoga class?
Yep. Same with some of my students. Except they may demonstrate the need with explosive behaviors. The sped teacher at my school and I co-lead a social skills/behavior group. We named a place called Chillville (all rights reserved, please send $1 for each time you use this phrase from now until eternity).
Chillville: a predetermined area to go to calm down. This location must be a place that is neither used as a reward nor as a punishment. It can be in the hall, behind a mat, in a rocking chair, etc.
When we first introduced it we took photos of the kids making their angriest faces and used it to create this story:

We then had each kid find a Chillville location in or near their classrooms and let the teacher know.
Next we created little laminated cards to put on their desks (except the actual photo of the child making the angry face should be used in lieu of the Superman photo):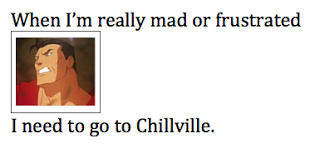 And most recently, the Chillville Song was introduced. Please don't be too jealous that I'm a brilliant composer and lyricist. Sing it to the tune of "Happy Birthday to you":


Make sure that you practice this song at home to make sure it is perfect. You can do this by opening your windows and belting the song as loudly as possible–microphone suggested.
Download the Chillville song for your (and your neighbors') karaoke pleasure here