Remember in High School when you could have sworn that your English teacher threw all those essays up his stair case. The ones that landed nearest the top step received "A"s, the next steps received "B"s and all remaining papers received a "C"? That teacher was the reason I refused to take any English classes in college.
And remember college acceptance time? When those college admission officers stuck their hand into the Santa-sized bag of applications and pulled out those lucky few?
Well, scheduling 60+ speech students into a school week looks a little like that.
Only, instead of throwing papers up a flight of stairs, I throw 100 post-its onto a huge piece of paper that has been divided into multiple columns.
My goal is to schedule every student to see me at least once per week, and see either my assistant or myself the other time in the week. But, hang-on, I can't have the speech time interfere with ESL, lunch, recess, a 90-minute reading block, music, PE, library, other special education services, or Title 1. And being the last to schedule my students makes it extra-fun in a "I sure enjoy an impossible brain puzzle" kind-of way.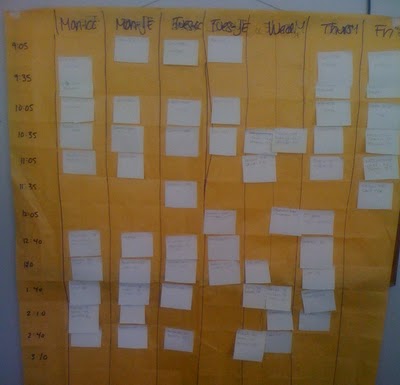 Although I've been serving students for several weeks, today marks the day in which I think I finally have scheduled all of my students.
That is… until someone graduates from speech, someone moves in, someone qualifies for new services, or anything else about the school schedule changes. At which point, I'll start throwing post-its again.
Other school-based Speech Pathologists: How do you create your schedule?