Disclaimer: This post contains Amazon affiliate links. 
Run, run, as fast as you can!
You can't catch me
Cuz I'm Super Woman!
I can jog in place, do jumping jacks, and run in circles while doing my P-90X now! Quite a change from this summer.
And the Holiday season is coming! Don't believe me? Step into Target! Geesh, it would be nice to enjoy one season at a time, wouldn't it? But I've given in and am preparing for Christmas season myself. I've already ordered and received my Christmas cards. Seriously.
Every December I do some kind of Gingerbread Man unit at school. This unit can be used for all of my students grades K-5 and is holiday "themed" without being religious. Usually I use a classic story. I've also used The Musubi Man, and Stop that Pickle. One of my favorite versions is Gingerbread Baby by Jan Brett because of the illustrations. The drawings are amazingly detailed and include past and future events on the sides of the page so that you have a multidimensional story occurring before your eyes! Additionally, there are free online resources from the author herself! You can get free characters from the story here and can watch the author reading the story here.
Today I added to my materials by picking these up at Dollar Tree. I figure I can do a nice basic concepts lesson of "inside, under, over, around, next to" using these cute items.

Because I'm all prepared for December already, I thought I'd share a Free Gingerbread Baby Story Retelling Unit. If you go to my TpT site and click on "Download Preview" you can get these:
Sequencing Cards
Wh Questions Board Game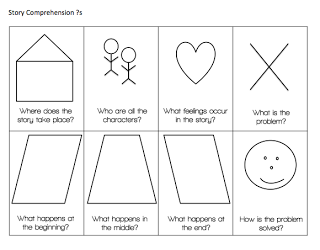 Story Comprehension Questions
If you like these, please support my work and buy the entire unit! It's 49 pages long and I'm really excited about it! I'm going to use different parts of it to cover the entire month of December for my groups.  Why use Literature in Speech therapy? Check out my post here.

 
24 pairs of Level 2 vocabulary words (approx grades 1st-3rd grades). Use these for any kind of matching game. Or use just the read mittens to do a pre/post test of vocabulary.


16 pairs of Level 3 vocabulary (approx grades 3rd-5th). Again, use these for matching games and pre/post data.


A vocabulary worksheet to practice the words you feel are most important. Students can draw or write their answers.


16 pairs regular past tense verb card pairs. Use for matching games.


Regular past tense worksheet can be done orally or in writing. This is also a great activity to start during therapy and then send home for extra practice and home/school connection.


Irregular past tense verb card pairs (12 pairs) for matching games.


Irregular past tense worksheet to do verbally or in written form.


Conjunctions (16 houses) to use with clauses from the story (8 gingerbread men) in order to work on complex sentence creation. Choose one gingerbread man and one house and finish the sentence.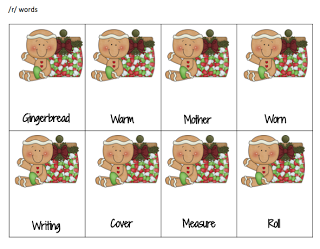 32 /r/ articulation cards from the story. Make doubles of them for matching games, or use them as singles to practice words in isolation or in sentences.


32 /s, z/  articulation cards from the story.


Setting and Character describing worksheets includes 3 settings and 2 characters (feel free to describe more). I have included a variety of illustrated adjectives that might be helpful for descriptions, however, you should feel free to come up with your own!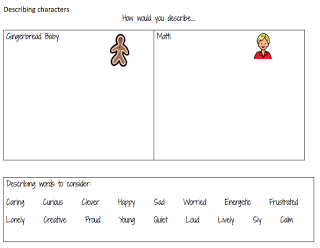 A gameboard filled with "Wh" questions about the story. Use a dice or spinner to play the game and have the children answer each question that they land on. Get these free as part of the "Download Preview".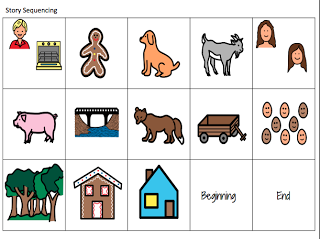 One page of pictures that can be cut out and used for story sequencing. I created these by retelling the story myself and included pictures that I would have liked to use as prompts. Get these free as part of the "Download Preview".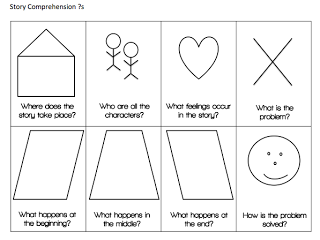 Story Comprehension question cards. I suggest using these with another game as the motivating activity. Before each game turn, the student should turn over a Story Comprehension question card and answer the question about the story.  Get these free as part of the "Download Preview".

A story map to complete in writing or orally. This is a great activity for children who can read/write because they need to carryover this skill into their classroom writing assignments.


Story retelling rubric for taking data on story-retell and measuring progress.
 
Get the whole unit here.
Check out other Speech/Language holiday-themed activities that I have created (click on the pictures to go the blog posts): 

There are so many versions of the Gingerbread man story, they make for a beautiful December unit on comparing and contrasting tales.
1. Read the classic on-line Gingerbread Man story. Kids enjoy "turning the pages" with the click of a mouse.
2. Now that the children are familiar with the story, read through the picture-word version of the story.
Children that can read should read along with the teacher. Pre-literate children can say the pictured words as the story is read.
Children struggling with language development can practice the chorus, "Run, run as fast as you can! You can't catch me, I'm the Gingerbread Man!" with its multiple repetitions.
3. Make a story map of the Gingerbread man using a graphic organizer such as this one.or this one.
Here's where the language fun begins…
4. Choose a tale similar to the Gingerbread Man from this site or this one. Or find your own book at the library to use for comparing and contrasting. Suggested books include: The Cajun Gingerbread Boy, The Runaway Pancake, The Runaway Tortilla, The Runaway Rice Cake and many others.
Make a story map of the new story using a graphic organizer such as this one.or this one.
5. Watch and listen to Jan Brett read her version of the story, Gingerbread Baby (note actual story begins about 3.5 minutes through the video).
6. Compare and Contrast 2 of your favorite stories with the Venn diagram– Printable Gingerbread Man Comparison Chart (from mrsnelsonsclass.com).
7. Repeat indefinitely with other versions of the story!
8. Try out some more gingerbread activities, just for fun:
Make a Jan Brett Gingerbread Friend
Trim a Jan Brett Gingerbread Baby House
Color a Gingerbread Man

Make Gingerbread Man story characters and act out the story

Make Gingerbread Chains
2. Make Gingerbread Cookie dough , Playdough , Bath salts , or Non-edible dough (all from mrsnelsonsclass.com)