Marvelous Children's Book Monday: The Little Old Lady
Disclaimer: This post contains Amazon affiliate links.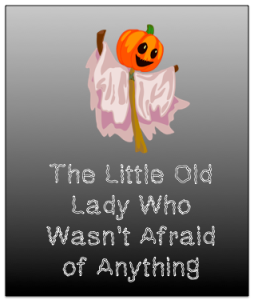 The Little Old Lady Who Was Not Afraid of Anything

Phew! What a title. I'm almost exhausted just typing it out.
I am continuing to plan for students through the month of October and decided that this was the perfect book for a third grader who struggles with her describing skills. This story is about a lady, who it turns out, is quite human and afraid of strange noises in the dark. It is a Halloween/Fall themed book, complete with jack-o-lantern and scarecrow. The story emphasizes repetitive noises and lines to help children learn the rhythm of the story and the vocabulary.
Speech Therapy Ideas:
1. Work on lots of /l/ sounds: little, old, lady, left, long, clomp
2. Turn the book into a play. Use this script to act out the scenes, practice volume and inflection, and possibly put on a production!
3. Practice sequencing. This site has a variety of ideas including story parts to cut apart and sequence with the students.
she met a shirt two gloves and a hat
went for a walk in the forest.
she ran home and sat in her chair
the next morning she found a scarecrow
she met two big shoes and a pair of pants
one afternoon a little old lady
on her way home
she met a huge scary pumpkinhead
4. Discuss compound words such as "scarecrow". Websites such as this one and this one make the process interactive.
5. Do some scarecrow crafts and activities. You can practice multi-step directions and creating a scarecrow book on this site or this one.