I love you, and you, and you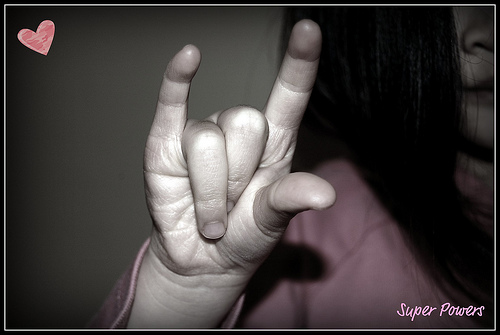 The American Sign Language sign for "I Love You" is a combination of the letters "I", "L", and "Y" all held up at the same time. *
My "baby" girl started Preschool a few weeks ago. She is one of two hearing children in a classroom for kids who are deaf and hard of hearing. The class is bilingual–ASL and English. A few hearing students are admitted into the program to serve as speech "models".
Although Marvel Girl has no special needs that I am aware of, I have placed her into a special education classroom. Why?
Because of my hopes and dreams for her:
I hope she will never judge someone for the way that they talk, walk, or move.
I hope she will form friendships based on mutual care and interests and not on looks or abilities.
I hope she will be compassionate , helpful , sympathetic , and genuinely interested in all people.
I hope she will be confident and friendly when she meets others, even if they look or act differently than herself.
I hope she will know that there are many ways to communicate , and each is beautiful.
I hope she will grow up knowing that everyone is special in their own unique way.
Sometimes talking about family values isn't enough. Sometimes, you have to throw your children into situations where they can embrace the values for themselves.
* If you turn this sign palm down, and fly it through the air, you are now signing "airplane"!