School lunches. Or: How I conquered the cold lunch demon.
Meet my new friend and mommy lifeline to school lunches .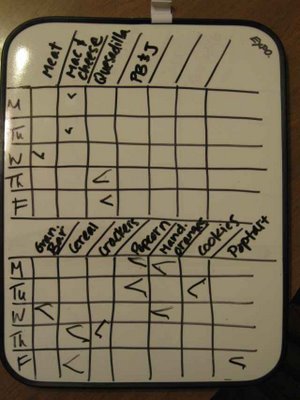 So, I've only been an elementary school mom for about 3 weeks, but I've been dreading it for about 4.5 years. I hate lunch. I hate eating it. I hate serving it. I just don't like lunch food. Professor X has been forced to had the privilege of serving both kids lunches for the last few years. Now that we're at bagged lunches, I guess I had to take over. But never fear–he'll be packing his own lunch soon.
I developed this anal check-list thingy for The Flash to pre-plan his weekly menu. He chooses one "main course" each day for the week. He then determines 2 snacks per day (at the teacher's request). The menu choices and grid lines are written in wet-erase marker so they they stay up for several weeks. The check marks are in dry erase and wiped away weekly.
So far, this strategy has been wildly successful. My evenings making his lunch and mine are relatively stress free. Added bonus: he has no one to blame for his lunch choices but himself. This morning he whined when I told him he was having Mac and Cheese for lunch, "Again?!"
I shrugged.
I didn't choose it.
I need your help. My lunch menu system needs a clever name to trademark and make gobs of money off of *snort*. Any ideas?