Social Skills – In-person & Online Groups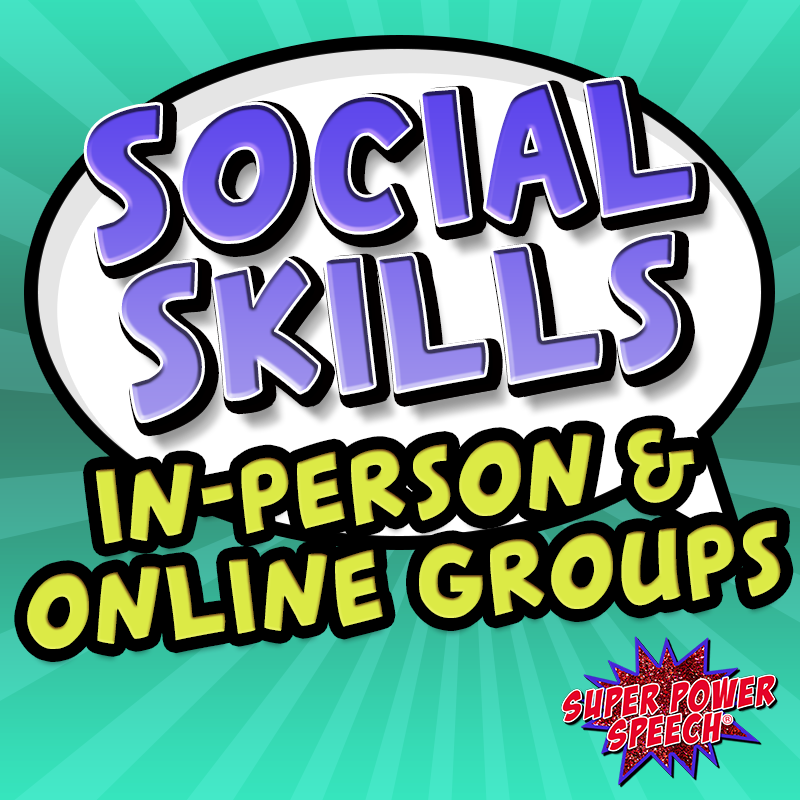 If you are a school-based SLP, you know that groups are a must to serve all of your students. School SLPs have little to no time to work individually with students, even if we wanted to.
Luckily, there is evidence that group-based social skills interventions (GSSIs) are effective for some goals (Reinchow et al., 2012).  A systematic review by Vaughn et al. (2003) found that social skills interventions that included modeling, play, and practice all led to increased social outcomes for children both with and without disabilities. Children with ASD may report large effect sizes regarding social knowledge following group social skills interventions (Gates et al., 2017). 
Previous research has focused on in-person GSSIs. During a global pandemic, however, in-person interventions are not always available. A review of studies on PubMed and ASHA reveals few studies in this environment. We are indeed in unprecedented times.
In the October issue of The ASHA Leader, Mary Ann O'Connell (2020) listed her advice for running online social skills groups in a private practice telehealth setting. She suggested setting guidelines for parents before the group begins. She made sure that each group had a routine, including activities such as snacks, sensory breaks, games, and short stories.
In my experience, social skills groups are heterogeneous. Each member of the group has different goals, strengths, language levels, and needs. How does one determine a group routine that works for the individuals? It might seem like a huge endeavor, but by tweaking some already prepared curriculum, it can be easy!
My social skills group routine stays the same no matter the students' goals or the setting where I am instructing:
First, I find (or create) warm-up activities that all of my social skills groups can use. I usually focus on having students practice some mindfulness. My new favorite is using the Breathing Bubble video by Calm. It is just 30 seconds long and perfect for my littles to take three deep breaths and think about their feelings and energy levels.
From there, we discuss how we are feeling with our hearts/heads and our energy levels. Students are asked to reflect if their current energy levels are appropriate for the activity (social skills group). If not, we go through options of different activities that might help.
After some introspection, all of my social skills groups work on a structured conversation. The goal is to make comments, ask questions, and respond to questions while staying on-topic. I provide visuals (2-D sports balls) to keep track of the number of turns they have created.
Then, we spend the remainder of our group session on an activity that applies to at least some of the students' goals. These activities could include:
Finally, no one is excused from the group until we have completed another self-reflection. Each student rates themselves on their engagement during the lesson. They may additionally rate themselves based on specific goals (i.e., voice volume, kind words, face showing in the camera). During virtual instruction, they are expected to stay on until they hear the magic words, "you may now log off."
The beauty of this routine is that it works during in-person, online, or hybrid instruction. You can use these warm-up activities with a computer and screen sharing when virtual. When in-person, lessons can continue on the computer or switch to paper and pencil versions of the same activities.
My school district is currently 100% virtual, with the transition to hybrid learning coming soon. I am relieved knowing that my social skills groups can continue using the same routine and materials, regardless of where and how we meet.
The following curriculum can get you started:
There are also 40+ additional social skills materials in my store to help with specific goals.
References
Gates, J. A., Kang, E., & Lerner, M. D. (2017). Efficacy of group social skills interventions for youth with autism spectrum disorder: A systematic review and meta-analysis. Clinical Psychology Review, 52, 164-181.
O'Connell, M. A. (2020). How Can We Make Social Groups Work Online?. Leader Live.
Reichow, B., Steiner, A. M., & Volkmar, F. (2012). Social skills groups for people aged 6 to 21 with autism spectrum disorders (ASD). Campbell Systematic Reviews, 8(1), 1-76.
Vaughn, S., Kim, A. H., Morris Sloan, C. V., Hughes, M. T., Elbaum, B., & Sridhar, D. (2003). Social skills interventions for young children with disabilities: A synthesis of group design studies. Remedial and Special Education, 24(1), 2-15.