A Virtual Vacation in Speech

Don't hate me.
My students still haven't started school. In fact, they won't start until a few days AFTER Labor Day. My own children (in the district next to where I work) will be two weeks into school before my students return.
I know that might sound awesome, but what I'd really truly prefer is to start back earlier and then have a week off in the fall. And then maybe another in the winter. As it is, after we start, I will work straight through until I'm pulling my hair out and not sleeping from stress. Our first day off will be one day for Veteran's Day.
I know most people have started back in school by now. But I also know that most adults and children are still dreaming of vacation. So, why not celebrate that in speech? Create a virtual vacation with your students and live it up!
How to have a virtual vacation in speech:
1. Choose a great vacation destination. I found this list to be awesome. In fact, if anyone wants to contribute to my family vacation fund so we can go to that Club Med, please do!
2. Create a packing list. As a group decide what things will need to be packed for this vacation. Make sure to choose clothing appropriate for the weather. Don't forget toiletries, medications, and things like towels.
3. Make a list of things you'd like to do on your vacation. Include the obvious (go out to eat) to the unusual (go zip lining).
4. Make an itinerary. Using a free hourly calendar (such as this one) to schedule what you will be doing all day long.
5. Take "pictures". These will most likely have to be drawn (of course, you can use props and a digital camera). Make sure to include yourself in the pictures!
Need a little more guidance? Check out the FREE "Plan Your Perfect Vacation" booklet that I made!
It begins with a "postcard" saying that you have won an all paid vacation. Wow! It's my dream come true!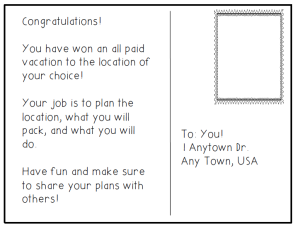 Interested in a vacation that I would love to have?
One day, it would be incredible to see the tropical rain forests. Did you know that Jan Brett wrote a book with that as the setting! It is called (affiliate link) The Umbrella and is about a myriad of rain forest animals all trying to cram themselves into a leafy umbrella.

I adore Jan Brett books and I love making book companions for them! So, join me on MY virtual vacation and practice language and articulation skills along the way! Check out my newest product: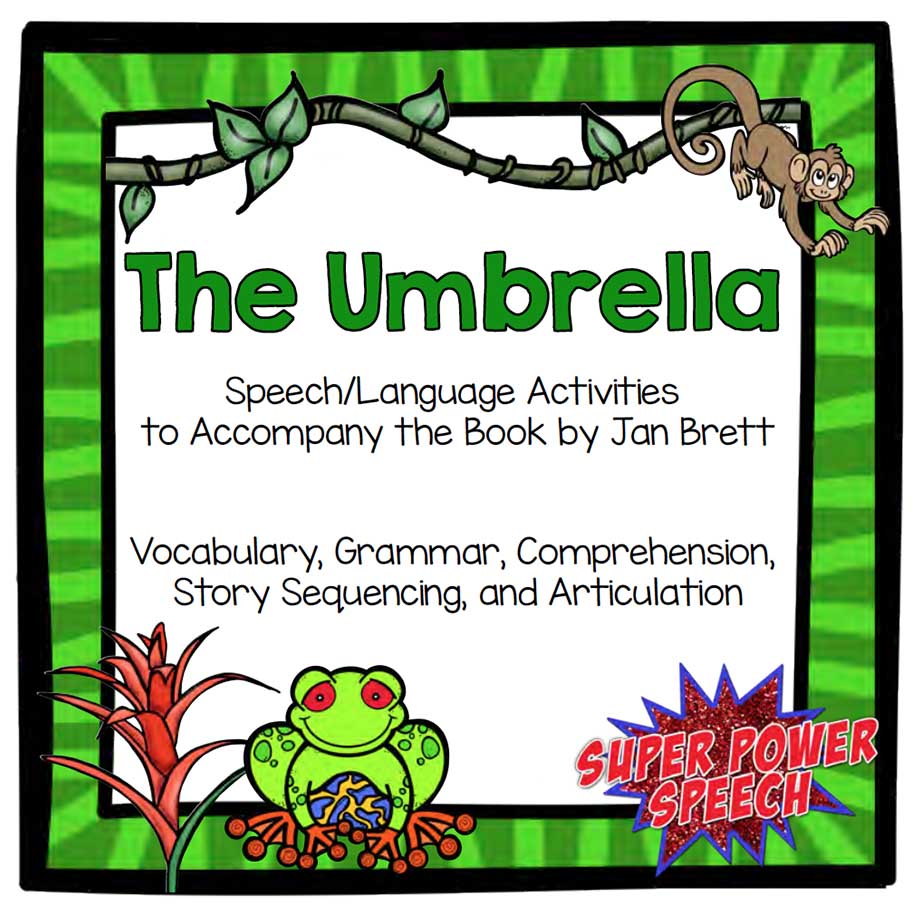 Look at all the things you can do with this one book companion!!
Like most of my book companions, this one is divided into levels so it is appropriate with almost every student on your caseload!
I love my book companions and use them with all of my groups!  You can get the companion for The Umbrella here.
Final question… if you've followed me on Perioscope (@super_speech) or Instagram (@superpowerspeech) this summer, you should know the answer. Which of these types of vacation did I take this summer? And…. where would YOU like to go?