A long, long time ago (12 days ago), I began summer break. I started with a rough patch of getting the stomach flu just a few days into my break. And because I like to share (I'm nice like that), I passed the bug onto my kids. Oh, and I hurt my heel so I've been limping around for a week.
In spite of that, I'm quite proud of all that I've accomplished so far this summer (insert selfie pat on back):
Held my own birthday party.
Hosted my mom, sister, and baby nephew for a long weekend.
Started and completed 5 books (Amazon affiliate links).
Completely re-did and updated tons of products on TpT. All of these updated versions available for FREE if you have previously bought the product.
Here are some tips that have helped me keep moving each day. I hope these are helpful to you too!
Get up early!
I'm still getting up at my work day time because that is when I'm most productive.  Added bonus–the sun is actually up when I get up!
I complete almost all of my do all my "to-do" list in the morning.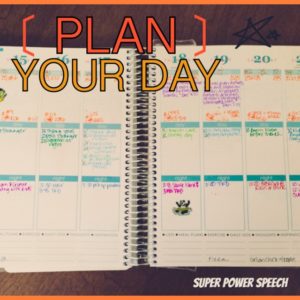 Plan your day!
This has been a life saver for me. I write down personal things, schedule things, and to-do items in my planner.
I am much more productive when I have small goals written down. I love my Erin Condren planner (click here to get yours for $10 off!).
Exercise. Every day if possible.
Nothing makes me feel better about myself and life than a good workout.
That used to be jogging and walking, but after my heel injury the bike and I are becoming good friends.
Drink. A lot.
And of course I mean coffee (d'uh!). But tons of water too! I drink about 4 of these water bottles per day. That's a gallon a day. Water (and caffeine) keeps me feeling great and helps me get work done. Added bonus: extra bathroom trips to get me off my butt on a periodic basis.
Don't be too awed by my summer routine thus far.  As of tomorrow my productivity will decline drastically, as I'm taking a trip by myself to see my college BFFs (happy birthday gift to me!). I'm not even bringing my laptop (but I am bringing my gym clothes!).
If you really, really want to get serious about organization, you MUST enroll in one of my courses. Check them out below:
Productivity and Organization for Women