This is it. Last Auctionable Cookies! (April)
This delicious recipe is not only my last Auctionable Cookies of the year, but possibly the last ones ever (since my son's school decided not to put on a school auction).
But last does not make least. Not even remotely.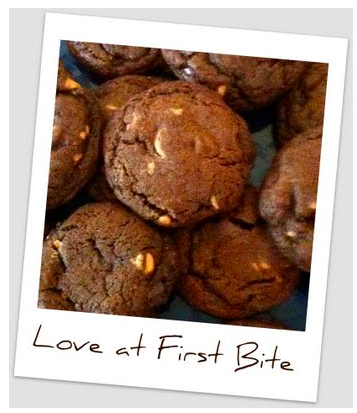 These cookies are to die for delicious. And if only peanut butter chips didn't run at $2+/bag (ouch!) I'd be making these daily often.
Dark Chocolate Peanut Butter Chip Cookies (from How Sweet it Is)

1 cup butter, at room temperature
1 1/2 cups sugar
2 eggs
1 teaspoon vanilla
2 cups flour
1/2 cup cocoa powder
1 teaspoon baking soda
1/4 teaspoon salt
1 cup peanut butter chips
1/2 cup chocolate chips
Cream butter, sugar, eggs and vanilla until fluffy. Add flour, cocoa powder, baking soda and salt and mix until combined.
Fold in peanut butter and chocolate chips. Refrigerate dough for 1-2 hours. When ready to bake, preheat oven to 350, roll into balls and set on baking sheet.
Bake at 350 for 8-10 minutes.