Auctionable Cookies. Month 2.
As the winner of my cookie auction told me later, if you've gotta go, isn't the best way via chocolate overdose?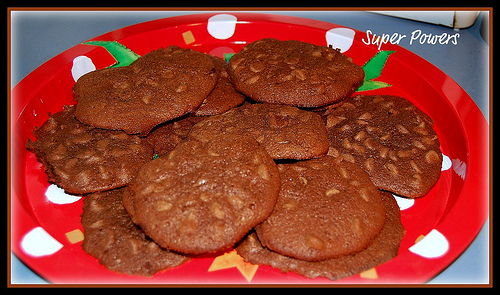 Death by Chocolate Cookies
16 oz. semisweet chocolate chips, divided
3/4 cup packed brown sugar
1/4 cup butter
2 eggs
1 tsp vanilla
1/2 cup flour
1/4 tsp baking powder
optional–(2 cups chopped nuts, or 1 cup white chocolate chips)
1. Heat oven to 350
2. Melt 8 oz of the chocolate chips on low/medium heat in the microwave for 1-2 minutes, stirring frequently. When chocolate is smooth and melted, stir in the brown sugar, butter, eggs, and vanilla.
3. Add the flour and baking powder. Finally stir in the remaining chocolate chips and optional items.
4. Cool in the refrigerator or freezer to make more solid. (I discovered this the hard way after all my cookies were flat and spread out).
5. Drop by 1/4 cup (a cookie scoop works great for this) onto cookie sheet and bake for 12-13 minutes or until just set to the touch. Do not over bake. Cool on the sheet for one minute before transferring to a rack to cool.