Language Based Communication Boards
A little speech talk here.
Wait! Don't go! You just might learn something awesome. 😉
Language development of a typical child includes expressing:
5-20 words at 18 months of age
150-300 words at 24 months
900-1000 words at 36 months
Although the vocabulary expansion throughout early childhood is tremendous, about 80% of everything that is expressed is within a core vocabulary. This means that with only a limited number of words, a person can express anything they want to say, albeit in a round-about way.
This information is incredibly powerful for individuals who are non-verbal and rely upon Augmentative Communication. It would be impossible for them to carry about a dictionary to point to every vocabulary word they need to communicate (and that assumes the individual is literate). But, if that person can learn a core set of vocabulary words and how to combine those words in unique ways, they can express themselves clearly and creatively. They can generate novel messages about anything that they want to say.
How does one learn these vocabulary words? A typical child hears spoken language and after 12+ months of being bombarded with verbal words, begins to use spoken language. A non-verbal individual also needs to be bombarded, but not just with verbal words. They need to have thousands of models of augmented communication.
Take a look at the fabulous free boards created by Gail Van Tatenhove.
Initially, you might introduce a child to 30 core vocabulary words: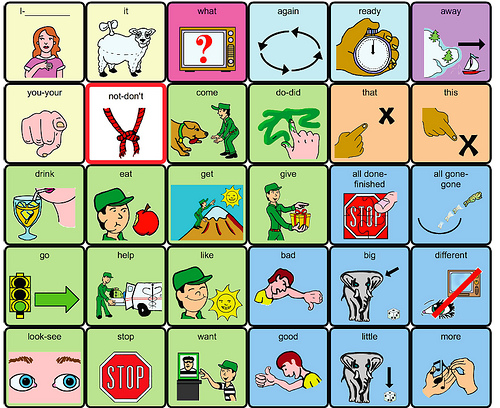 Your modeled speech while playing blocks might include you saying and pointing to pictures like this:
Ready?
Get it.
I go.
It big.
I want it.
You go.
I finished.
As the child expands his understanding of vocabulary, abstract language, and word combinations, their core vocabulary will grow as well.
Here is a 112 word core vocabulary board: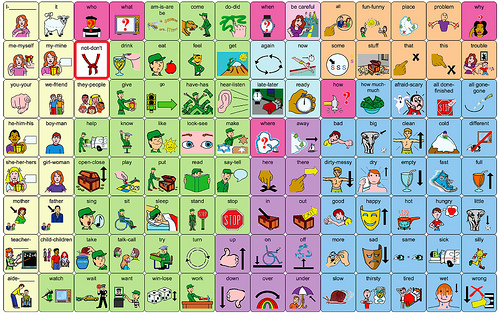 Now the block activity might include both parent and child pointing to pictures to express:
I go now up.
I like big stuff.
Up, up, up, big.
You not go. My turn.
I want big this on be careful.
Put on here not there.
Go up not down.
You trouble. You down. I sad.
Okay, so it's not all that grammatically correct. But WOW! Think of all the ideas you can express with these words.
Watch this video clip of a man using core vocabulary on his Augmentative Communication device to talk about a difficulty he was having:
Learning key vocabulary and combining words is one of the hallmarks of language. It paves the path for high technology Augmentative Communication. It allows kids like Micah to actively make decisions about their own lives.

Van Tatenhove's Pixon Project Kit will be hopefully released later this spring. It will focus on a systematic way to teach language concepts with communication boards. I am giddy at the thought of having this material in my classroom.