Yesterday we celebrated two great men.
We had a holiday yesterday in recognition of Martin Luther King, Jr. So, as a family we watched his I Have a Dream speech. Then we combined our learning about Dr. King with another great African-American. We learned about Barack Obama and the inauguration (a day early).
After being thoroughly inspired by The Crafty Crow, we decorated our home in patriotic streamers, attempted to listen to patriotic music, and created flag pinwheels.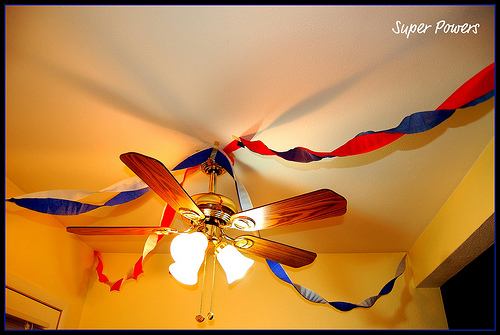 I baked oatmeal-chocolate-chip muffins, added red and blue sprinkles, and adorned with flags.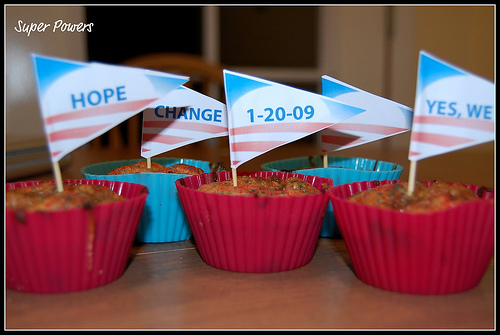 We made patriotic sticks and jammed out to the drums from Grant Park.

Finally, the speech/language therapy highlight of the evening…
We are unable to time travel to the next's day Inauguration Speech, so instead, we watched Obama's victory speech. We filled in the blank bingo chart from The Crafty Crow. As we listened to the 11/4/08 speech, we put gummy candies on the vocabulary words. Every time a row was completed, everyone got to eat a candy. The Flash has never been so interested in vocabulary before. This activity was so successful, in fact, that I may adapt it to vocabulary within book activities at school.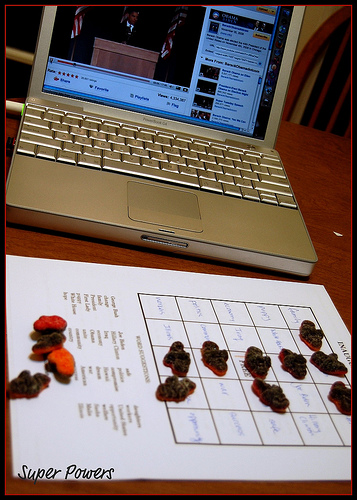 Today is a momentous occasion. I hope one day my children will recall, "I remember when Obama became president. He led the way for everyone. Maybe even me…"
For more great educational resources, check out these links ( hat tip to Treasure Seekers ):