In our home, you've got to work for your gifts.
Oh yeah. No freebies here.
Everyone in the family has a gift code that only I know. Each year the code changes, so no cheating.
The codes require using math knowledge and patterning. You know. Cuz we're math geeks around here (did I ever mention that Professor X was a Bio-Physics major in college?!)
Advantages to my coding system?
1. I can put gifts under the tree ahead of time with security that the kids really can't guess their gifts, because they don't even know which ones are theirs.
2. No counting gifts and comparing who has "more".
3. Learning that math is fun!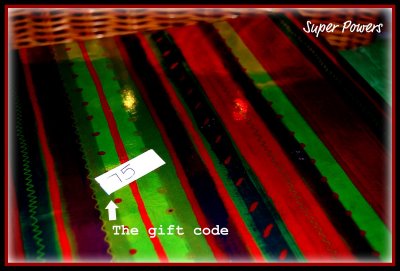 If you promise not to tell, I'll let you in on our codes this year.
Promise?
The Flash = multiples of 5 (the above gift is for The Flash and he has no idea!)
Marvel Girl = anything with the number 3 in it
Super Woman = palindrome numbers
Professor X = can't tell you since I know he'll read this. But he'll figure it out quickly. 😉