Great Games for Therapy and Home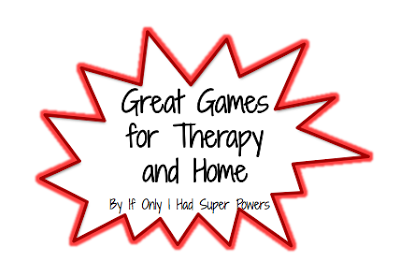 Disclaimer: This post contains affiliate links.
I have to admit, I've been using less and less traditional games in my speech room in the last few years. I have a huge rolling cabinet full of them. However, they mostly just sit there. Why? I've found that with many of the games we get too little time practicing speech when we are playing a board game. In addition, I end up spending too much time explaining the rules to kids who (often) have difficulty with new things.
I do have a variety of games that I keep on hand and will list the ones that you may be less familiar with….
Games we play in the Speech Room:
4 First Games: I actually only play one of these games– Around the Castle. But it really is a good one. It's a shortened version of a Candyland-type game, played with a die (instead of a million cards). It's great for pairing with any articulation or language cards.


Sequence for Kids: I think this is my all time favorite. It's a slightly simpler version of Sequence and very similar to Connect Four. Most kids ages 7+ can understand how to play it (plus it requires a little bit of strategy which I really like for executive functioning!). It can be played with any articulation or language cards. I also sometimes use it to work on describing.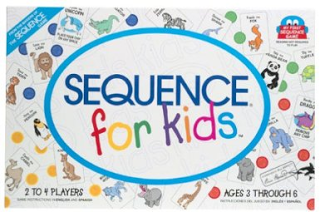 Crocodile Dentist: I have the travel size version of this game, which is perfect for my needs. Not all of my kid like this one, because it can be quite shocking when it closes it's mouth. But I love how it has really short turns and keeps kids on the edge of their seats! It is good for articulation or language drills.


Rack-O Card Game:  I first played this with patients when working at a pediatric rehab facility. I've found that only my oldest elementary students can understand how to play this game (putting cards in order, one turn at a time), but those that get it really benefit from the strategy and thinking processes involved! I found this game at a yard sale years ago for about a dollar and snatched it up!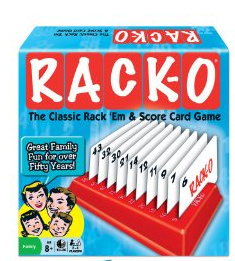 Secret Square Board Game I'm extremely sad that this game is no longer being sold new. I have enjoyed this game so much that I bought it for my niece's birthday years ago! I typically play it with no speech or language drills and just work  on describing categories attributes (like 20 questions with manipulatives). If you ever see it at a garage sale, snatch it up!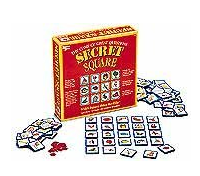 So those are some games that use at work. We have tried to play games at home as well. My attempts at a weekly game-night have mostly been a disaster, but when we do play, here are some of our favorites!
Games we play at home:
Rat-A-Tat-Cat: This has been a favorite for a few years. It's simple enough that we can all play the game, but has a little bit of strategy involved as well. It even works on basic math skills of addition and greater/less than!


Sequence Game: I first brought this game out of the closet when I realized that I had left Sequence for Kids at school. Fortunately, The Flash was old enough to understand (and play well) and Marvel Girl joined up on a team. We've had fun with this game.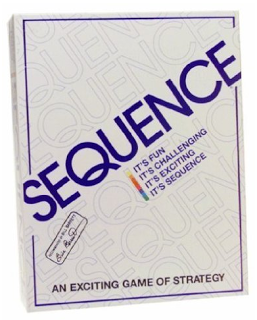 ThinkFun Zingo: The kids are just about too old for this game and so I'll be bringing it to school in the fall, but they have had a lot of fun trying to "find" the pictures faster than each other and cover their board (or get 3 in a row).
 

Slamwich: My kids don't love this one as much as my husband and I do. It's fast paced, and therefore Professor X ALWAYS wins. But it is adorable! Making a sandwich and slapping the pile when repeats or the thief show up! I hope we play a lot more of this as the kids get older!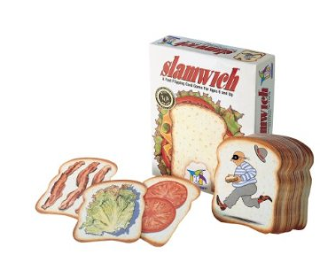 Dominion: I admit that I don't play this one. Professor X and The Flash are really into this game (and The Flash can often beat him). I love it when they play games together!

Do you enjoy any of these games or have a great source to get them cheap/free? What else do you like to play? I'd love to know!