I've been a very busy girl this weekend!
With the my Speech Club kids, we always do a "Wednesday Word Search". We focus on higher level vocabulary and the speech sounds that the individual kids are working on. I've been wanting to fancy these up and make them look nice, so I have! While making 20 new word searches, I decided to make a Thanksgiving Word Search to help put us in the spirit. 😉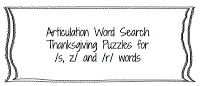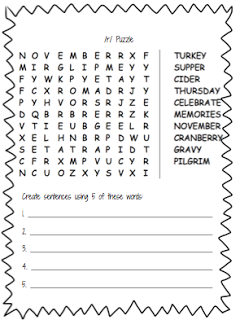 You can download the 2 Thanksgiving Word Search puzzles free here.  I was amused to find that this was difficult for The Flash.  Personally, I've always loved Word Searches for the same reason I loved math (up until calculus that is!)… there IS always a right answer and you can find it if you try enough combinations.


If you love Word Searches, please consider supporting me and purchasing 20 more on my TpT site. Great for kids working on both vocabulary and /s, z/ and /r/ sounds!