Social-Pragmatic Skills for Bloggers and Blog Readers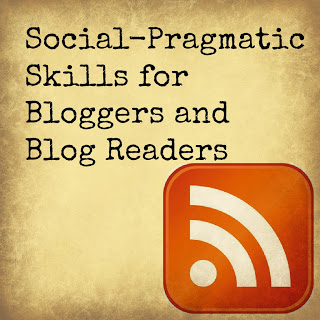 Something pretty amazing has happened in the last year or two.
Speech Pathologists have started blogging!
They have brought a huge wealth of knowledge, advice, and (my favorite) creative treatment ideas to the entire world via the blogging platforms.
And with these awesome new blogs have come thousands of new readers.
I'm feeling like a bit of an old lady here saying "back in the old days people showed more respect!".  Even though Speech Pathologists teach Social-Pragmatic skills to others, I feel like they don't have these same skills when it comes to the blogging mode of communication.
I've been on blogger since 2006, have spent thousands upon thousands of hours on blogs, and have made many friends from blogs, so I feel like I can speak with a little bit of authority here.
Social-Pragmatic Skills for those Reading Blogs:
1. Bloggers like to hear themselves talk. They like to show off their ideas, their kids, their artwork, etc. But bloggers use the blogging platform because they want to be social. They want feedback. They want to spark discussion. They want to know who has been reading their blog. Back when I posted a lot of pictures (and not many Speech Pathology items), my readers were excellent about letting me know they had visited. Take this post for example. I posted a picture of 4 snowmen. And received 44 comments from people basically just saying, "Hi, I came to visit!" It's like acknowledging a teacher when you walk into their room to look around, rather than completely ignoring them.
2. Bloggers often put something about themselves in their profile or on their "about" page. This is good personal information to have about the writer and to get to know them better, but it is also a way to connect with readers. If you favorite blogger writes that they adore water skiing and you do as well, tell them! Make a connection, maybe even a friend!
3. Some bloggers are selling their awesome materials (and rightfully so since there is some incredible stuff out there!) and others handing out materials for free. THANK the folks who have done all this hard work! Don't you hate it when you hold the door open for someone and they walk right through without even acknowledging you? That's a little bit what it feels like when someone downloads my free materials but doesn't say anything to me. Why thank someone if you've paid for the product? Well, I hope you thank your servers at a restaurant. This is a similar concept. It's just good etiquette.
4. If you like a blog in general, "follow them" or become a "member" (on the right hand side of my blog). I just about peed my pants when I reached my first 100 followers. "They like me!" Now it's a matter of pride, and I watch that number every day to see if it has increased.
Social-Pragmatic Skills for Bloggers:
1. We do not blog in isolation. We want people to read our blogs (otherwise, we'd make them private or just keep a journal). So acknowledge your reader's comments by commenting back and/or visiting their own blogs. Katie at Playingwithwords365 is great at this skill! I do not always comment back since people don't often go to check the comments a second time, but I make it a point to ALWAYS visit blogs of those who have commented on my blog. And I (gasp) try to always write a comment on their blog letting them know that I've been there!
2. Link to others. The BEST way to drive up traffic to to have others link to you. And you, in turn should link to others (it's called "Linky Love"). Love someone's creative idea? Link to it. Think someone's advice on helping children with Autism rocks? Link to it. (Did you notice I did this in the previous paragraph?) Hopefully, one day bloggers will do the same back to you.
I hope that this is useful information and that we can treat blogging as the incredible social platform that it was designed to be.
Did I miss anything? Other blogger social skills that I should have included? Let me know!