Auctionable Cookies. Months 6 and 7.
Apparently, I forgot to share my November featured cookies.
Oops.
So you get the benefit of not just one yummy recipe, but two fabulous cookie recipes today. Aren't you lucky!
Stop laughing. Seriously.
Well, one of the recipes I have actually blogged about here. So maybe that gets me off the hook?
You see, November = cranberries.
And cranberries = Coconut Cranberry Chew Cookies.
And Coconut Cranberry Chew Cookies = 10+ extra pounds for me.
Yum.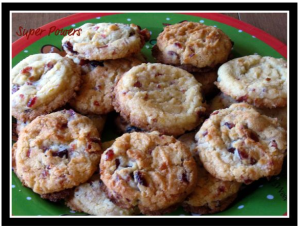 Coconut-Cranberry Chews
3/4 cups butter at room temp
1 cup sugar
1 Tbs. grated orange peel
1 tsp vanilla
1 1/2 cups flour
1/2 tsp. baking powder
1/8 tsp. salt
3/4 cups dried cranberries
3/4 cups sweetened flaked dried coconut
1. In a large bowl, mix butter, sugar, orange peel, and vanilla until smooth.
2. In a medium bowl, mix flour, baking powder, and salt. Add to butter mixture, stir to mix, then beat on low speed until dough comes together, about 5 minutes. Will be very crumbly. Mix in cranberries and coconut.
Using my fabulous math skills, a similar equation can be used for December.
December = peppermint
Any time of the year = chocolate
Peppermint + chocolate = OMGosh my scale is going to explode.
The end.
Peppermint Bark Chocolate Cookies from Simply Recipes
1 cup of butter
3/4 cup of brown sugar
3/4 cup of white granulated sugar
1 large egg
1 teaspoon of peppermint extract (very important change from original recipe)
1 3/4 cups of all-purpose flour
3/4 cup of unsweetened cocoa powder
1/2 teaspoon of baking soda
1/2 teaspoon of baking powder
Pinch of salt
1 cup of peppermint bark, broken into little chip size pieces (I smashed up 1/2 cup of candy canes I've been saving since last Christmas and added 1/2 cup of chocolate chips–cuz I'm cheap like that)
1. Preheat the oven to 350°F.
2. Cream the butter and sugars together for about two minutes at medium speed or until well incorporated and light in color.
3. Add the egg and the vanilla extract until well incorporated, about a minute. Be sure to scrape down the sides and the bottom of the bowl halfway through.
4. Sift together the flour, baking soda, baking powder, salt, and cocoa powder. Add to the butter mixture slowly, and beating at medium speed, stopping once all of it is incorporated (do not overmix).
5. Fold in the peppermint bark chips (or Super Woman's cheap alternative)
6. Take small spoonfuls of the dough and roll into one inch sized balls and place onto a baking sheet lined with parchment paper. Bake for -12 minutes. Let cool on the pan for a few minutes, then transfer to a wire rack to cool completely.
Makes approximately 3 dozen cookies.