In the spirit of Rep. Emanuel Cleaver's "Complaint-Free Day", I present to you not a laundry list of things that have s*cked about this year, but a reminder of all we have.
The children filled up recycled packaging paper with beautiful fall colors, while I cut out a bare tree. I later cut out leaf shapes. Most evenings at dinner, we report one thing that we "gave" that day and one thing we are "thankful for". It's our nightly "thanks and giving" routine. For the last few weeks, we wrote each of those on colorful leaves and stuck them to the tree. It's a visual reminder to be generous and thankful every day.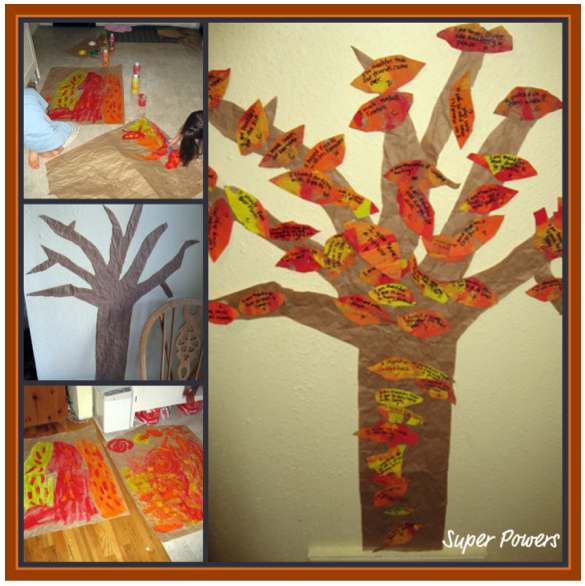 And now the therapy portion of this activity:
1. Have the children use complete sentences when responding to the questions, "What did you give today?" and "What are you thankful for today?"
2. There are many difficult sounds in "thanks" and "giving" and this activity provides daily practice towards perfecting these sounds. A great cue for the "th" sound is to "gently bite your tongue and blow". And a cue for the the "v" sound is to "gently bite your lip and blow".
3. Expand vocabulary by challenging the children to use descriptive and unique words when being thankful. Be sure to think of something new every day (which my kids are notoriously poor at doing).
4. Have fun talking and brainstorming together as a family!