How to be a WISE communication partner
Communication is not completed in isolation. While talking to myself can help me process my own thoughts and feelings, it does not fulfill the social functions of communication such as expressing my wants/needs, sharing information, or experiencing social closeness (Light, 1988 as described by Beukelman & Mirenda, 2013).
A communication partner is the person or persons that send and receive messages with each other. This term is frequently used when referring to individuals who use AAC. Communication partners for people who use AAC may include parents, educators, peers, family, and medical team.
"The success of communicative interaction is dependent on the communication skills of each individual participating in the exchange."

Kent-Walsh & McNaughton, 2005
Research has found that without specific training, (adult) communication partners tend to dominate conversations, demand specific responses, and take more communication turns (Light, 1985). Communication partners benefit from specific training in order to model language and provide increased communication opportunities and feedback (Gevarter & Zamora, 2019).
What does a communication partner need to learn?
They need to be WISE.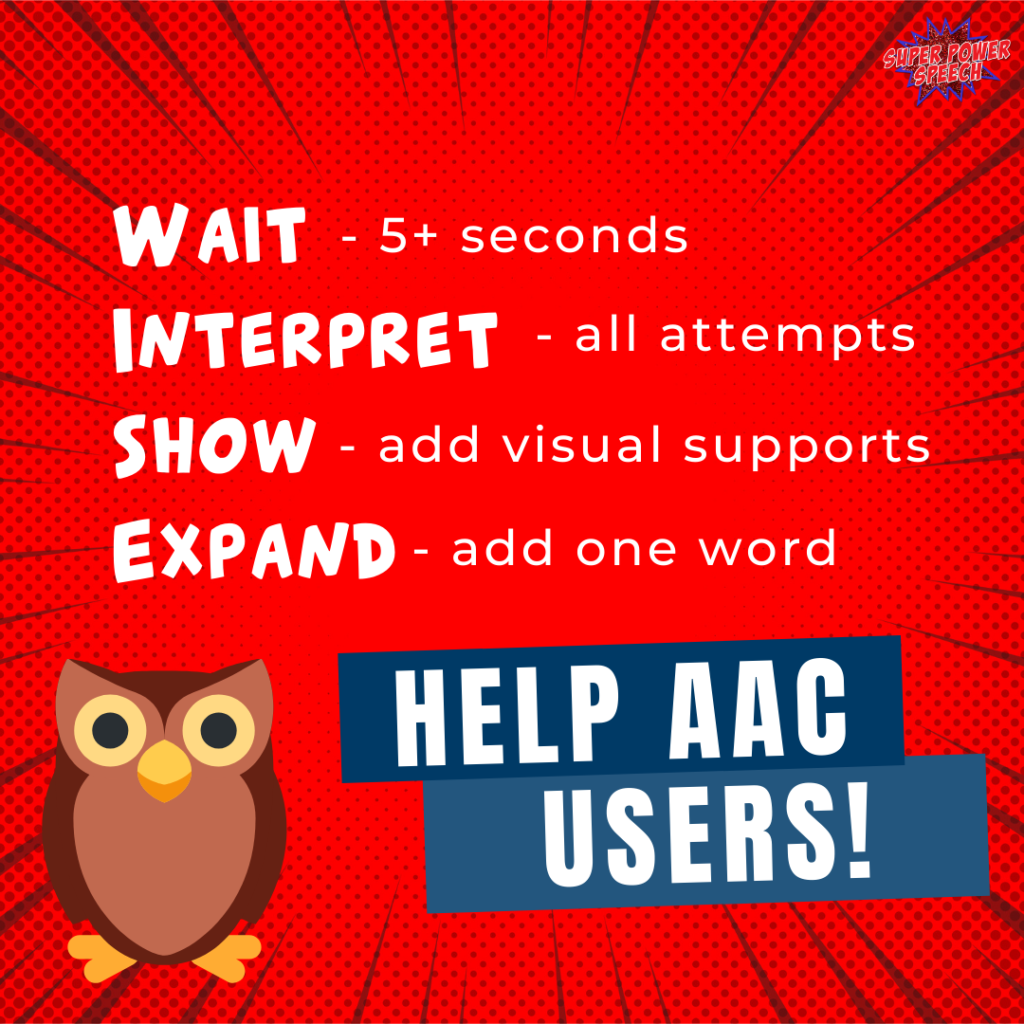 Wait – Wait 5 to 10 seconds before expecting any kind of response
Interpret – Interpret actions as communication. Give words to the actions and respond appropriately.
Show – Model communication on a robust AAC system, verbally, or with sign language. I've found that most adults struggle with how to do this. No problem! I've got a free course about how to model AAC systems. See below for the free course.
Expand – Expand what the child is saying by adding more words or more complexity. Always expose them to language that is just a little bit beyond their current levels.
Training others to be WISE
As incredible as it would be to just read about being WISE and then instantly becoming a perfect communication partner, most of us need skills training based on adult-learning principles. This training should include five major components (adapted from the ImPAACT Program by Kent-Walsh & Binger, 2013):
Explain
Demonstrate
Role-Play
Practice
Reflect
What does it look like to train others in this sequence (important! follow the sequence in order!)?
Each concept must be carefully explained. For example, what does it mean to wait 5 seconds and why is that step important?
The skill must be demonstrated. The demonstration could be completed by a trainer, a video clip, or anyone familiar with the technique.
Everyone learning the strategy should role play with each other. They can try role-playing with several people and providing feedback.
The communication partner needs to practice with the AAC-user in natural contexts. My favorite contexts are book reading or playtime activities.
The communication needs to reflect on what they learned, whether it is working, and how they could incorporate the strategy into more natural contexts.
Being WISE is based on research and easy to learn! Besides, who doesn't want to be WISE?? (uh oh! Talking to myself again there!).
---
Looking for WISE handouts for team members? You can find them within both of the following products:
This resource includes all you need for a communication board and fringe vocabulary AND training materials (including the WISE worksheet and references)
There are six parent support forms in this resource, including one on how to be WISE!
References
Beukelman, D. R., & Mirenda, P. (2013). Augmentative and alternative communication: Supporting children and adults with complex communication needs. Paul H. Brookes Pub.
Gevarter, C., & Zamora, C. (2018). Naturalistic speech-generating device interventions for children with complex communication needs: A systematic review of single-subject studies. American Journal of Speech-Language Pathology, 27(3), 1073-1090.
Kent-Walsh, J., & Binger, C. (2013). Fundamentals of the ImPAACT program. Perspectives on Augmentative and Alternative Communication, 22(1), 51-58.
Kent-Walsh, J., & McNaughton, D. (2005). Communication partner instruction in AAC: Present practices and future directions. Augmentative and Alternative Communication, 21(3), 195-204. https://doi.org /10.1080/07434610400006646
Kent-Walsh, J., Murza, K. A., Malani, M. D., & Binger, C. (2015). Effects of communication partner instruction on the communication of individuals using AAC: A meta-analysis. Augmentative Alternative Communication, 31(4), 271-284.
Light, J., Collier, B., & Parnes, P. (1985). Communicative interaction between young nonspeaking physically disabled children and their primary caregivers: Part I – discourse patterns. Augmentative and Alternative Communication, 1(2), 74-83. https://doi.org/10.1080/07434618512331273591