A Christmas conversation between Super Woman and herself
It's Christmas Eve, Super Woman! Why in the world are you at the table blogging? Don't you have a life? Holiday traditions? Family?
Funny you should ask, Super Woman. In fact I have no life. All my Christmas plans were thrwarted by my nemesis: Old Man Winter.
Eh?
Old Man Winter decided that the last week and a half would dump the most snowfall that this region has seen in 40 years.
Bwhahaha! We saw your pictures last week of the snow that canceled 3 days of school. Surely you jest that the measly one inch of accumulation conspired against your holidays?!
Okay, yes that was kind of a joke. Until you see the drivers around here. Then you'd know why everything was canceled.
But over the weekend, Old Man Winter dumped, and I mean dumped snow, snow, snow on us. We're up to almost 2 feet of snow now.
Super Woman, be reasonable. You used to live in New England. This should be an easy foe for you.
But in New England, the plow had cleared the streets before I even woke at 5am.
Here, the county's whopping 4 snow plows (!!) have all been exhausted on the freeways. Which were closed nonetheless. Our roads are all covered in 2 feet of snow and ice. And the law prohibits salt on the roads.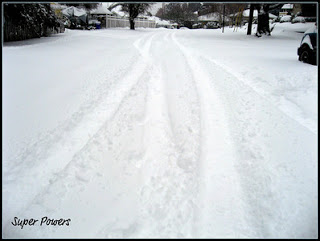 So, driving is tough. Why did that thwart your holiday plans?
Ah, because all my efforts to fly out of town to see my family were in vain. Canceled. Canceled. Canceled. Now I am stuck in town for Christmas. I've never been in town for Christmas and I don't know what to do with myself.
Go out and live it up! Go shopping. Go out to eat. Visit friends.
2 feet of snow. No salt. I don't know how to put the chains on my car.
Yesterday, the Super Family spent 3 hours trying to shovel our minuscule driveway and 1/2 of the world's longest sidewalk. With a garden shovel. You know, because no one has a snow shovel around here. Why should we?
After de-icing the car for an hour last night, we drove a quarter mile to our friends' home for dinner. It was our first time in a car in 5 days.
Surely you jest. You are Super Woman?
No jest. The kids are sledding in the street. Neighbors are skiing down the road. We've even spotted a snowmobile or two.
And we live in an urban area. Urban.
But when life gives you snow, make snow balls, right?
Exactly, last week (tiny accumulation) we made Frosty.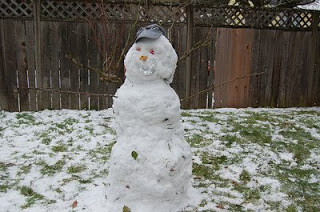 This week we're sledding down the street and making snow cream.
I just learned the secret of this tasty dessert. The next time we have enough fresh snow for this treat may be 2012, so we're making it daily.
Here is the tutorial that the Super Family made for you.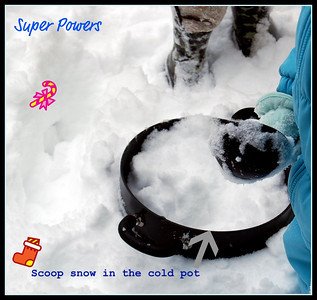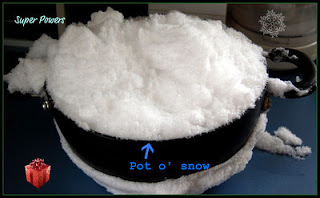 For every gallon of snow, add 1 cup of cream/half-and-half/milk, 1/2 cup sugar, and bit of vanilla.
Stir.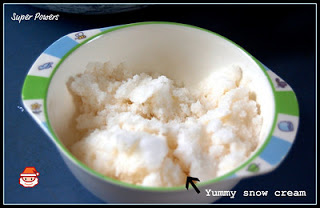 Enjoy!
Merry Christmas ?!
If anyone has any great Christmas Eve or day at-home traditions that we can try out, please pass them along. I'm at a loss!