Modeling Language – An AAC course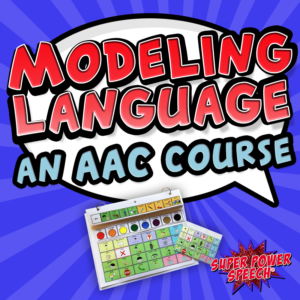 When you work with a student who is non-verbal or minimally verbal, do you wonder what to do? During my first year out of grad school, I was completely lost. I had a class of severely impacted and medically fragile students, and I had no idea what to do with them. I felt so overwhelmed, in fact, that my husband and I quit our jobs and moved cross country so that I could experience a one-year (minimal paying) internship on AAC.
Although I learned many things during that internship, I still did not feel comfortable modeling language with students who were not verbal. I did not know what activities to do with cognitively delayed students. I loved these students, but I also felt anxious on their speech days. What to do today?
After many years of conferences, seminars, practice, teaching, and more practice, I now feel very comfortable with language modeling and using communication books. I would love to share what I have learned with you.
Grab some coffee. It's time to learn!