Literature-Based Speech Therapy
 My favorite way to do Speech Therapy is to to make it literature-based. Why? It just makes sense to me! I've complied my reasons to consider doing Speech/Language Therapy based on books:
1. End goal of accessing curriculum:
My students are eligible for services because their Communication interferes with their education. So my job is to improve communication with education as the ultimate goal. There are two great ways to do this: work directly with the curriculum being taught in the classroom, or work on skills similar (but often easier) than those taught in the classroom. Since many teachers are slow to respond to my requests for new vocabulary and concepts, I usually have to abandon that plan. Similar skills almost always relate to reading (my district enforces 90+ minutes of reading instruction daily). Since most of my students are poor readers, I can help with reading comprehension by doing literacy units.
2. It makes life easier for me:
There are so many layers to a good book, so it can be broken down and taught to many different levels. I can use one book for almost all of my speech therapy groups. For K-2nd grades, I use more basic vocabulary in the book, basic concepts and prepositions, describing characters or pictures, and easy grammatical forms of regular plurals and irregular past tense. For 3rd-5th grades, I can step up the vocabulary, add in irregular grammar, idioms (if in the book), and perspective taking. For ALL students, we can work on story retelling and sequencing. Do you have groups with both language and articulation students mixed? I do. As long at the artic students are at the word level, just use words from the book and you can all work on the same concepts. No separate activities for each student to keep track of (I hate that!).
3. It is so flexible:
Not only can I use the same book for many different levels and ages of students, but I can extend one book for an entire month.  And then sometimes I can re-use the exact same book the next year, with the same students, and they still enjoy it and learn something new! A sample lesson plan for a 2nd grade student with grammar and vocabulary goals could be:
Session 1: Read half of the story. Discuss the illustrations. Predict what will happen in the next part of the story. Learn 5+ new vocabulary words.
Session 2: Review previous vocabulary words. Quickly retell the first half of the story. Finish reading the story. Learn 3+ new vocabulary words.
Session 3: Review all new vocabulary words. Learn more words if needed. Fill out the vocabulary sheet with several of the important vocabulary words.
Session 4: Work on grammar goals within the context of the story (e.g. regular/irregular past). Play a matching game with either vocabulary cards or grammar cards.
Session 5: Review grammar cards and replay matching game. Do grammar worksheet together orally. Send grammar worksheet home for extra practice.
Session 6: Do character describing activity by brainstorming and then writing down adjectives for main characters. Begin story comprehension questions.
Session 7: Continue story comprehension questions. Play a board game and flip over a question before each turn. Answer the questions together as a group of individually.
Session 8: Sequence the story with pictures. Create the story map together as a group. Practice retelling together as a group.
Session 9: Individual story retells for data collection and progress monitoring.
4. I love great picture books and I want my students to as well:
Sometimes the best way to instill a love of reading to a child is to do it over and over and over. Even if those students are not strong readers themselves, they can learn to love books read to them and learn to comprehend the books through activities and picture explanations. And what is the best way to improve vocabulary? Reading of course!
Because I love doing Literacy-based speech therapy I have been posting about it for years. In the last few months, I have started putting considerable time (read: hours and hours and hours) into making high quality literacy-based speech therapy units that you can easily use with students 1st-5th (and sometimes K) and selling them on Teachers Pay Teachers. Why sell them? Well, I know that I can throw something together and make a lesson out of it, but I've realized that others (including my assistants) need more specific lessons to help guide them. It has been a lot easier to justify to my kids why I am glued to my computer if I tell them I'm hoping to earn enough to buy a family Christmas gift.
This Thanksgiving long weekend, I have worked very hard on creating two new units based on The Mitten and The Hat (both by Jan Brett). Like a picture walk through a great illustrated book, I'm going to do a picture walk through my new units. Please consider supporting my efforts and buying.  If you are not ready to buy, that's okay. Click on "Download Preview" and you will get a freebie that you can use right away from the unit.
UPDATE: Completely revised! Go and download the new and VERY improved version of this book companion here!!
My daughter and I made a video explaining how to set up and use the PreK file folder activity here.
This entire unit can be purchased here. You are going to LOVE it!!!!
Want another winter-themed Jan Brett book companion? Check out "The Hat"!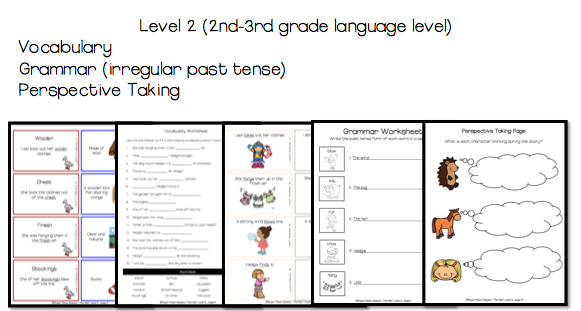 This entire unit can be purchased here!
Check out ALL of the Literature-Based Speech Therapy units I have for sale here!! Warning: it is a lot because I use a lot of books in therapy!